Internet trading giants face patent challenge
Intellectual property and technology commercialisation firm BTG has started legal action against Amazon.com, Barnesandnoble.com...
Intellectual property and technology commercialisation firm BTG has started legal action against Amazon.com, Barnesandnoble.com and two other internet companies for infringing patents related to the tracking of users on the web.

Download this free guide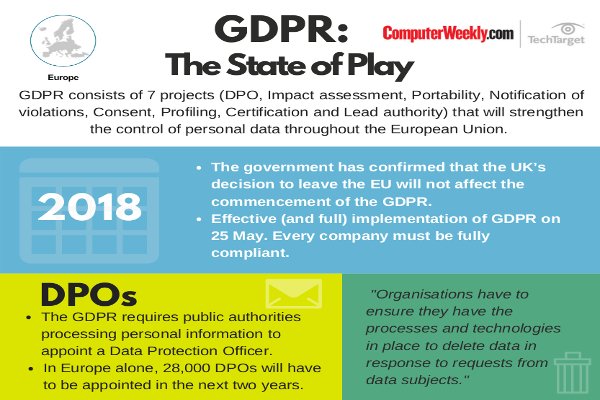 Infographic: GDPR - The State of Play
Get the latest information on how GDPR is going to affect your business and how to avoid any unwanted fines with this simple infographic.
The US federal court action alleges that the companies use BTG's patented technology as part of their online marketing programmes. BTG is seeking unspecified damages for past infringement and injunctions against future use of the technology.
BTG has charged Amazon, Barnesandnoble.com, online movie rental service Netflix and shopping site Overstock.com with infringing US patent number 5,717,860.
It also charged Amazon and Barnesandnoble.com with infringing US patent number 5,712,979. Both patents relate to technology that enables the tracking of users between websites. The were acquired by BTG from Infonautics in 2002.
BTG spokesman Andy Burrows said that the company researched the patents before buying them and was aware that the technology was used by a number of companies. It made efforts to persuade the companies to licence or buy the technology before it filed suit, he said.
"Litigation is part and parcel of doing business in the intellectual property technology spectrum," Burrows said. He added, however, that "the floor was still open to reach commercial settlement".
A spokeswoman for Amazon in the UK said that the company does not comment on pending litigation.
Earlier this year BTG filed suit against Microsoft and Apple for a patent related to web-enabled software update technologies.
Although the company is prepared to engage in litigation, BTG gets most of its income from licensing and royalties, Burrows said. It holds about 3,500 patents in its portfolio and brought in revenue of about £50m in its last financial year, Burrows said.
Gary Barnett, IT research director at consulting company Ovum, said that he has noticed an increase in intellectual property lawsuits in the technology sector recently.
"They have become more important because people have run out of new ideas and they have started looking at old ideas and how to exploit them," Barnett said.
Patent lawsuits are can be lucrative. Earlier this year Intel agreed to pay Intergraph $225m (£125.9m) to settle a patent suit over a parallel instruction computing technology. And last year, eBay was ordered to pay $35m for infringing a patent related to online auctions.
Scarlet Pruitt writes for IDG News Service
Read more on IT legislation and regulation