EU software patent directive stalls
The controversial EU software patent directive has stalled this year after the Council of Ministers decided to postpone its vote...
The controversial EU software patent directive has stalled this year after the Council of Ministers decided to postpone its vote on the matter until 2005.

Download this free guide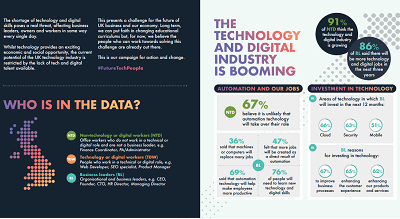 Infographic: How to future-proof UK technology
There is no doubt that the technology industry is booming right now, bringing with it exciting social and economic opportunities. However, there is a real fear that the UK industry may be stunted due to the lack of talent available. This e-guide helps to break down the future fears and expectations of dozens of business leaders and tech workers.
Belgian minister Marc Verwilghen said the patents directive would not be voted on by the council this year "because the qualified majority no longer exists".
The legislative arms of the EU - the Council of Ministers and the European Parliament - have been wrangling over differing versions of the directive, first submitted by the European Commission in February 2002.
The parliament added amendments to the directive that would have barred the patenting of software. But in May the Council of Ministers narrowly passed its own version of the directive, reintroducing software patenting. That version of the directive is now awaiting final approval from the council before it goes back to the European Parliament for a second reading.
Representatives from the council had claimed that the final vote was being held up by the need to translate the proposed directive into all the languages of the EU, but the Polish government's indication last month that it no longer supported the legislation in its current form threw the directive into doubt.
A reversal of the council's decision last May could derail the process by sending it back to the commission or a working group.
Yesterday the commission refused to say when the council vote would take place. "We are expecting the political agreement reached on 18 May to be approved at a forthcoming council meeting," said a commission spokeswoman. "We've not been told that any member state has changed its position."
A representative of the council's rotating presidency, now held by the Netherlands, said the May agreement was still on track and that Poland had not notified the presidency about a change of position.
Sources say that pressure is being put on the Poles to stick to their original support for the 18 May directive.
Currently, different European national courts interpret patent laws in conflicting ways. Should the EU fail in its attempts to establish an overarching patent standard for IT-related inventions, the confusion over technology patents in Europe will only deepen, according to trade groups such as the European IT and communications industry association.
Laura Rohde and Simon Taylor write for IDG News Service
Read more on IT legislation and regulation