Qualcomm to build $800m US wireless media network
Mobile multimedia content will get its own nationwide network in the US by 2006 if an $800m (£435m) project by Qualcomm goes...
Mobile multimedia content will get its own nationwide network in the US by 2006 if an $800m (£435m) project by Qualcomm goes according to plan.
The wireless technology company, pioneer of CDMA (Code Division Multiple Access), plans to build towers around the country to beam music and video to several types of 3G handsets: CDMA2000-1x, 1xEV-DO (Evolution-Data Only) and WCDMA (Wideband CDMA). The network will use 700MHz radio spectrum for which Qualcomm already owns licences.

Download this free guide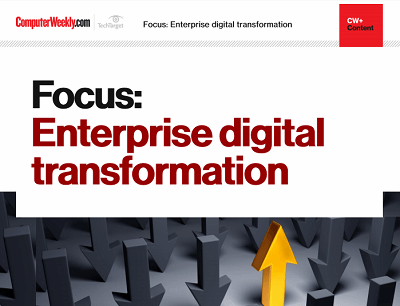 Are you digital to the transformation?
Digital transformation - the buzzword that we can't get away from. Enterprises need to accelerate their digital transformation journeys to avoid being left behind in an increasingly digital world. It's not an easy feat, but one that can be costly to get wrong. Join us as Computer Weekly takes a look at how businesses can stay on track through collaboration, innovation, and listening to user needs.
By submitting your personal information, you agree that TechTarget and its partners may contact you regarding relevant content, products and special offers.
You also agree that your personal information may be transferred and processed in the United States, and that you have read and agree to the Terms of Use and the Privacy Policy.
Cellular operators expect mobile multimedia to be a key driver of 3G use. Qualcomm aims to save them the trouble and expense of building their own infrastructures for delivering those multimedia services.
Through a subsidiary called MediaFLO USA, Qualcomm plans to offer the network as a shared resource for mobile operators and to provide interactive multimedia services in conjunction with the operators.
In addition to aggregating and distributing content from TV stations and networks, cable and satellite operators and other providers, MediaFLO will integrate unique content that each cellular carrier would offer to distinguish itself from competitors, according to Qualcomm.
The use of spectrum in the relatively low-frequency 700MHz band will allow MediaFLO to build a network with far fewer towers than are required for conventional cellular systems - 30 times to 50 times fewer towers, according to Qualcomm.
The system will be based on Qualcomm's FLO (Forward Link Only) technology, and the company expects to start operating the network commercially in 2006.
It will require about $800m of investment, some of which may be funded by third parties, the company said. Qualcomm plans eventually to spin off the MediaFLO business to its shareholders.
The MediaFLO network will be able to support 50 to 100 channels of national and local content, including as many as 15 live streaming channels in addition to ones featuring video clips and audio. Qualcomm expects to beat current mobile multimedia quality, offering audio in stereo and video in QVGA (Quarter Video Graphics Array) format at 30 frames per second.
Stephen Lawson writes for IDG News Service