Cron steers CA towards on-dmand computing
Interim chief executive of Computer Associates International (CA), Kenneth Cron, used his brief keynote speech at the opening of...
Interim chief executive of Computer Associates International (CA), Kenneth Cron, used his brief keynote speech at the opening of TechXNY to place the company at the centre of the trend toward on-demand computing.

Download this free guide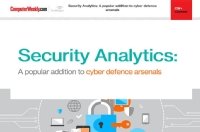 How to improve your cyber security with security analytics
Download this e-guide to read how many firms are looking to security analytics to keep abreast of the ever-evolving world of cyber threats. With traditional approaches to cyber security proving less effective against increasingly sophisticated and automated cyber-attacks, security analytics may well be your knight in shining armour.
"A fragmented, manually controlled IT environment cannot deliver consistent service," Cron said.
"We can all take a page out of the book of consumer technology." If consumer products don't work, Cron said, they are quickly jettisoned by users. "In the consumer market ease of use and affordability delivers on the promise of the technology."
In the corporate IT sphere however, IT infrastructure remains complex. "A wide variety of products from a wide variety of suppliers has delivered too much complexity," Cron said.
Now however, corporations and suppliers are struggling to deliver IT in much the same way that utilities offer services, Cron said. "Stage two for corporate IT is managing on-demand computing, where you get power from a grid."
Suppliers such as IBM and Sun have been pushing on-demand IT services, which offer users the ability to pay for computing power and applications on an as-needed basis, for several years.
"CA is at the forefront of this revolution," Cron said, quoting the company's eTrust security and product patch-management services as examples. He also talked about several users that have benefited from CA IT infrastructure management services and applications.
"Arizona Electric cut backup time by 50% - by better managing what they already have," he said.
However, Cron did not delve into details about specific products, nor did he address the accounting scandal that has caused key CA executives to be indicted by US federal authorities.
Ex-chief executive Sanjay Kumar's indictment was announced in September, on the same day that CA agreed to pay $225m (£126.4m) to reimburse shareholders for the alleged fraud.
CA promised to work with the government in collecting compensation from accused former executives. As part of the deal, the US Department of Justice will not prosecute the company.
Marc Ferranti writes for IDG News Service
Read more on IT risk management