Panasonic adds smartcard function to SD memory
Matsushita Electric Industrial, which owns the Panasonic brand, will start selling secure digital (SD) memory cards to be used in...
Matsushita Electric Industrial, which owns the Panasonic brand, will start selling secure digital (SD) memory cards to be used in smartcards in Japan by the end of 2005.

Download this free guide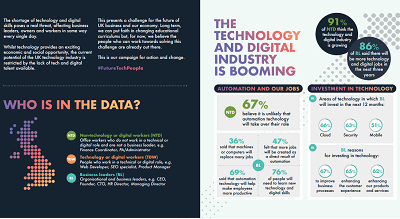 Infographic: How to future-proof UK technology
There is no doubt that the technology industry is booming right now, bringing with it exciting social and economic opportunities. However, there is a real fear that the UK industry may be stunted due to the lack of talent available. This e-guide helps to break down the future fears and expectations of dozens of business leaders and tech workers.
The move is an effort to promote the widely-used SD format as a platform for noncontact smartcards that can also be used to store large amounts of data. The new card, which is called the Smart SD, will be available in sample quantities in December 2004, Masaki Akiyama, director of Matsushita, said.
The goal is to produce a portable storage device that can also be used as a smartcard. The cards contain two sets of memory. One set stores personal and encrypted information that can be transmitted wirelessly and used for personal identification and security purposes. The other set is flash memory like that in conventional memory cards.
"The Smart SD Card has two key advantages over other smartcards: It will be able to contain a large amount of memory, and it's removable," said Go Nakano, general manager of Matsushita's network service systems group.
Matsushita is developing a Smart SD Card that has a built-in antenna. The company is also developing a version based on the Mini SD Card that requires an external antenna. The company has developed 32Mbyte, 64Mbyte and 128Mbyte capacity cards.
The cards conform to the GlobalPlatform international smartcard standard, and the Java Card standard.
The new smartcards use ferroelectric memory (FeRam), which has a number of technical advantages over the EEProm (Electrically Erasable and Programmable Rom) that is widely used in smartcards, according to Matsushita.
Data can be written to FeRam faster and at a lower voltage than to EEPRom, and FeRam can be rewritten many more times, the company said.
Matsushita hopes the success of the SD memory card will help the new format to become a de facto standard for removable contactless smartcards, Akiyama said. Since the introduction of the SD Card in 2000, about 220 companies have announced over 2,600 products compatible with SD memory cards, according to Matsushita.
Nakano said the new cards will be compatible with SD memory card slots. The flash memory data rate will be a maximum of 20mbps.
Paul Kallender writes for IDG News Service