East End trounces Silicon Valley
In a heart-warming reversal of tradition, the UK has achieved huge success with another country's invention. The US, inventor of...
In a heart-warming reversal of tradition, the UK has achieved huge success with another country's invention. The US, inventor of the internet, has seen London emerge as the world's busiest independent internet hub.

Download this free guide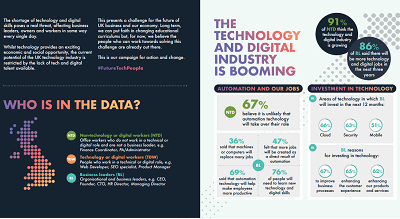 Infographic: How to future-proof UK technology
There is no doubt that the technology industry is booming right now, bringing with it exciting social and economic opportunities. However, there is a real fear that the UK industry may be stunted due to the lack of talent available. This e-guide helps to break down the future fears and expectations of dozens of business leaders and tech workers.
The not-for-profit London Internet Exchange now passes 40 gigabits a second through its network at peak times. Some co-location facilities, where major ISPs own hardware, might have a greater total traffic than Linx, but the London network is the largest to be managed by a single organisation.
Total traffic volumes have hit at least 55Gbps including private peering arrangements where two organisations swap traffic directly.
More than 90% of the UK's internet traffic passes through Linx, which has switches, connected by dedicated fibre-optic links, in eight locations in London Docklands.
Jessica Hendrie-Laiño, chairwoman of the Internet Services Providers' Association, said the traffic milestone showed the UK internet industry had become world class. "Linx has been at the heart of UK internet activity for almost a decade and its influence extends throughout the world," she said.
Smaller overseas ISPs can now connect to the exchange via existing members' hardware, giving them a virtual presence on the network without having to maintain their own London facilities. In April, a deal with New York interconnection site Telx allowed Telx members to connect to Linx as if they owned facilities in London.
Founded in 1994 by five ISPs, and now owned and financed by 150 ISPs and content providers such as the BBC, Linx allows members to pass web downloads, e-mails and other data directly to other members all over the globe. Members have access to about half the world's internet routes.
Last month better-than-expected growth allowed Linx to cut prices to members. Linx chief executive John Souter attributed the group's healthy financial position to a higher-than-expected take-up of new ports and more new members than expected.
Also in August, Linx passed a new anti-spam code to facilitate the rapid close-down of spammers who host e-commerce sites on a legitimate network while sending bulk spam via third parties.
Matthew Broersma writes for Techworld.com