Samsung unveils new display technologies
Samsung Electronics has developed a new LCD technology that builds a touchscreen into the display.
Samsung Electronics has developed a new LCD technology that builds a touchscreen into the display.
This could lead to thinner and cheaper display panels for mobile phones. At present, smart phones and PDAs have a separate touchscreen panel attached on top of the LCD.

Download this free guide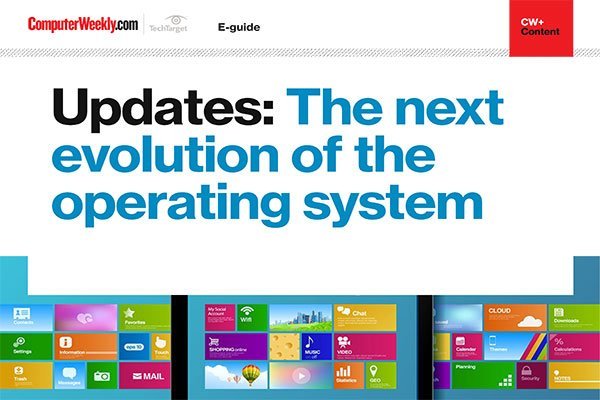 Unpacking the future of operating systems
In this e-guide, we take a look at how updates are the next evolution for operating systems. From security and iris recognition to 3D modelling and easier recognition with OneDrive, updates are key to keeping your device fresh and, most importantly, safe.
The new technology uses optical sensors that measure the various light volumes coming into the panel when objects touch the panel surface, then convert that light into electrical signals for recognition.
Future cell phones can be made about 25% thinner using the touchscreen technology, said Cho Sung-In, a company spokeswoman.
"Yields are better because you are not adding another panel on top, so there is no problem with dust or air bubbles," she said. Volume production will begin in the second half of 2005.
"This new screen technology fits in with Samsung's strategy of making smaller and lighter phones. But the technology may not be incorporated for a little while yet," said Michito Kimura, a senior analyst at IDC Japan.
Samsung has also announced that it has developed 17-inch and 21-inch LED backlights for LCD monitors, a one-piece 2.32-inch touchscreen panel for mobile LCDs, and a 46-inch portrait LCD panel.
The company said the new LED backlights greatly improve brightness, colour saturation, stability and screen compactness.
It said its 21.3-inch LED backlight for LCD monitors is about half as thick as other models of its size, while the 17-inch version delivers brightness of up to 500 candelas per square metre (nits) compared to other models that average 250 nits.
Lastly, the company also showed a 2.6-inch VGA (300 pixels per inch) amorphous silicon LCD that it said enables users of mobile products to receive the same resolution as notebook PC screens.
Paul Kallender writes for IDG News Service