Motorola rolls out database management software
Motorola has completed the second phase of a four-phase rollout of information life-cycle management (ILM) software that cut its...
Motorola has completed the second phase of a four-phase rollout of information life-cycle management (ILM) software that cut its production database size by as much as half in some business divisions.

Download this free guide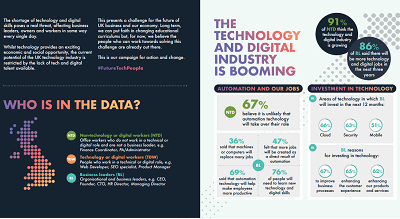 Infographic: Future-proofing UK technology
The current potential of the UK technology industry is restricted by the lack of tech and digital talent available. Read through this challenge for the future of UK business and our economy.
By submitting your personal information, you agree that TechTarget and its partners may contact you regarding relevant content, products and special offers.
You also agree that your personal information may be transferred and processed in the United States, and that you have read and agree to the Terms of Use and the Privacy Policy.
The multimillion-dollar roll-out also allows Motorola to better meet the requirements of the Sarbanes-Oxley Act by keeping data online and easily accessible without eating up space on production servers, according to Bill Brewer, global IT configuration manager for Motorola's personal communication sector.
Motorola is using the Application Data Management (ADM) suite from OuterBay Technologies to manage data growth in its Oracle e-business applications by automatically migrating historical customer account information from production databases to high-end storage from EMC.
"As Oracle applications mature, you use more disc space... so you will be taxing your database at a higher level," Brewer said. "There's only so much tuning you can do. So it's either rip the data out or do something else."
Motorola has set the ILM application's policy engine to migrate historical data that has not been accessed for 15 months.
Motorola said it originally rolled out Outerbay's software in its China operations in 2001 and was able to reduce its production database size by 50%. That led to the data consolidation at its North American datacentre. It completed the North America rollout of the software in mid-July and plans to complete similar projects in Europe and South America by the end of 2005.
Brewer said the hardware consolidation involved moving ERP hardware from remote locations to Motorola's datacentre in Chicago to cut operational costs. The North American roll-out has boosted performance on Oracle databases by 62%, mostly as a result of a reduction of data.
Outerbay's ADM software works with Oracle's purge functionality. But in Motorola's case, instead of purging data, it moves the information from Sun Microsystems. UltraSparc II E10K machines to EMC Symmetrix arrays.
Before the ILM software roll-out, Motorola had projected that data growth over the next six years in its personal communication sector would rise to 23TBytes. With the new software in place, it is expected to grow only to 10TBytes.
In all, Motorola plans on reducing the size of its databases worldwide by 44% once the software is rolled out across all divisions.
Lucas Mearian writes for Computerworld