Probation Service may be forced to extend use of troubled system
A troubled electronic case management system might have to be extended across the Probation Service despite long-standing...
A troubled electronic case management system might have to be extended across the Probation Service despite long-standing concerns about its usability.

The Unix-based Case Record and Management System (Crams) has been criticised in two independent reports and is due to be replaced by a more modern Windows-based system in 2006-2007.

Judy McKnight, general secretary of the National Association of Probation Officers, warned that the poor track record of criminal justice IT projects for running to schedule meant further delays were possible, leaving staff reliant on Crams.

Download this free guide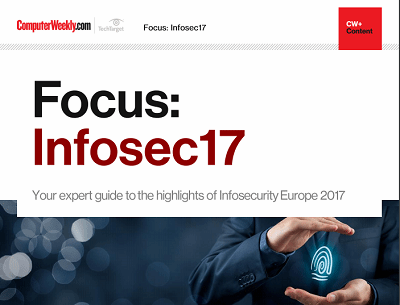 From forensic cyber to encryption: InfoSec17
Security technologist Bruce Schneier's insights and warnings around the regulation of IoT security and forensic cyber psychologist Mary Aiken's comments around the tensions between encryption and state security were the top highlights of the keynote presentations at Infosecurity Europe 2017 in London.
By submitting your personal information, you agree that TechTarget and its partners may contact you regarding relevant content, products and special offers.
You also agree that your personal information may be transferred and processed in the United States, and that you have read and agree to the Terms of Use and the Privacy Policy.
"Our members have put up with poor IT for many years and it is always jam tomorrow," she said.

"Crams is not only still in use, but there is a threat they will roll it out further. It will be two or three years before [the Windows-based system] comes in, but things always seem to be late, so there is a chance people will have to go back to Crams. It is one thing hanging in the air and [the Home Office] is thinking about it."

Last month the government announced £800m of additional funding for criminal justice IT. This came on top of £1.2bn for integrated systems across the police, the Crown Prosecution Service and the courts. The Probation Service and Prison Service have also been promised case management systems.

A spokeswoman for the Home Office said, "We are aware of some areas extending Crams to support the Criminal Justice Act." She said the decision to use Crams was left up to local probation offices.

Problems with the Crams and poor network performance led to threats of industrial action by Probation Service staff in 2000. Responding to this, Home Office minister Paul Boateng said Crams would be replaced over 12 months with a new Windows-based system.

In 2001, a National Audit Office report described Crams as outdated and difficult to use. In September 2003, an interim review by the Inspectorate of Probation reported that there were still problems with the system.
Read more on IT risk management