Service problems force FT switch
Problems with an incumbent suppler have prompted The Financial Times to outsource all of its communications to BT.
Problems with an incumbent suppler have prompted The Financial Times to outsource all of its communications to BT.
Previously, the FT used to only use BT to support communications between its main printing sites and for its broader wide area network. Its local area network (LAN) used to be supported by a hardware and services giant, but the FT walked away from that contract because of what it claimed was poor service.

Download this free guide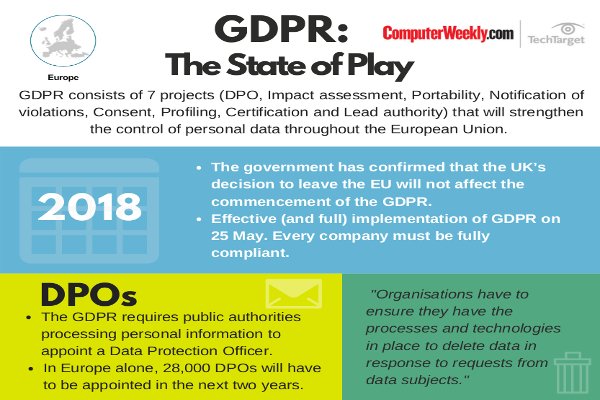 Infographic: GDPR - The State of Play
Get the latest information on how GDPR is going to affect your business and how to avoid any unwanted fines with this simple infographic.
The FT's UK HQ is connected by a four-year old Cisco-based LAN and the company found that while the technology had caused very few problems, when maintenance had been required the level of service from the provider was "lacking".
Edd Scrine, head of operations at the Financial Times, reveals, "While we had a service contract with [the supplier], when an issue first came up with the LAN, we were initially unable to log the problem with the helpdesk as they could not find our details.
"Because of this the problem took a couple of days to sort out – too long when it was causing delays to productivity. When this happened a second and third time, we decided to go straight to Cisco to resolve the problem and finally to walk away from the service contract."
Several companies were invited to respond to a tender for the LAN maintenance contract, which involves reactive fault management and equipment upgrade and repair.
The FT selected BT because of its track record in all areas of maintenance service and, ultimately, due to its price. Choosing BT also gave the FT an opportunity to benefit from consolidating the supply of its IT and communications.
Edd Scrine says, "There are definite benefits to bringing as much infrastructure under the maintenance of one supplier. The fact that BT offers discounts on further orders placed is a sure incentive to do more business with them, but it's not just a matter of money.
"Dealing with one vendor, receiving one bill, and having one helpdesk number makes life much easier. It saves us time and we feel we are getting a better service."
This article was part of Computer Weekly's managed services business channel, sponsored by Computacenter.
Read more on IT legislation and regulation