NT4 users want US-style extended support deal
Representatives of some of the UK's largest IT users are set to ask Microsoft to offer them the same custom support contracts for...
Representatives of some of the UK's largest IT users are set to ask Microsoft to offer them the same custom support contracts for Windows NT4 that it has agreed with a consortium of 100 leading US financial institutions.

The US Bits consortium, which represents organisations such as Goldman Sachs, JP Morgan Chase, Merrill Lynch and Credit Suisse First Boston, constructed a deal last month with Microsoft for continued support of NT4, which goes out of extended support at the end of this year.

Through the Bits contract, Microsoft said it would work with the financial industry to provide specialised support for NT4 to cover security updates for an extended period. However, users are required to use the extended support period to migrate to newer Windows platforms.

David Roberts, chief executive of the Corporate IT Forum (Tif), which represents the IT departments of more than half the FTSE 100 companies, said, "The Bits contract prolongs NT4 support so long as users migrate. We should be able to do the same thing in the UK for Microsoft premier support customers."

Roberts said he wanted to establish formal contact with Microsoft to explore a similar type of arrangement for Tif members.

Download this free guide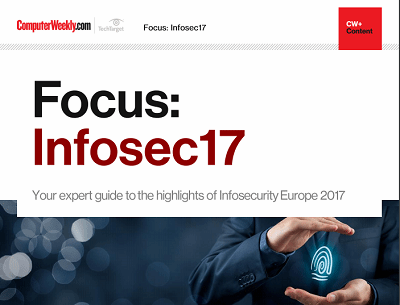 From forensic cyber to encryption: InfoSec17
Security technologist Bruce Schneier's insights and warnings around the regulation of IoT security and forensic cyber psychologist Mary Aiken's comments around the tensions between encryption and state security were the top highlights of the keynote presentations at Infosecurity Europe 2017 in London.
By submitting your personal information, you agree that TechTarget and its partners may contact you regarding relevant content, products and special offers.
You also agree that your personal information may be transferred and processed in the United States, and that you have read and agree to the Terms of Use and the Privacy Policy.
NT4 still has a substantial foothold in UK IT departments. IT directors at a Tif workshop in March estimated they were running 10,000 NT4 servers between them. Meta Group analyst Phil Dawson said, "Up to a quarter of UK users are still running NT4."
The Bits agreement shows that users can pool resources to produce a compelling support contract that works for Microsoft and the user community. However, a company spokesman was unable to confirm whether Microsoft would work with UK user groups to create a similar deal to Bits.
Peter Houston, senior director of Windows Servicing Strategy at Microsoft, said the custom support NT4 contract was available to all its customers. But Roberts said annual fees for custom NT4 support contracts could run into six-figure sums if users purchased them individually.
UK users looking for a similar arrangement to that in the US might struggle, according to Mike Davis, senior reseach analyst at Butler Group. "The difficulty for UK users is that they do not have the clout of Bits," he said.
However, Davis suggested that UK public sector users might be in a position to exert influence over Microsoft and forge a deal.
Read more on IT risk management