IBM looks at software for Blue Gene supercomputer build
IBM is now one year away from building the 65,000-node Blue Gene/L machine for Lawrence Livermore National Labs and two working...
IBM is now one year away from building the 65,000-node Blue Gene/L machine for Lawrence Livermore National Labs and two working prototypes of the machine have been now been ranked among the 10 fastest computers in the world, according to the top 500 list of the world's fastest supercomputers.

Download this free guide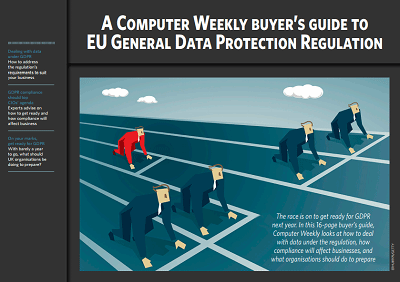 Computer Weekly's Buyer's Guide to GDPR
The race is on to get ready for GDPR next year. Computer Weekly looks at how to deal with data under the regulation, how compliance will affect businesses, and what organisations should do to prepare.
By submitting your personal information, you agree that TechTarget and its partners may contact you regarding relevant content, products and special offers.
You also agree that your personal information may be transferred and processed in the United States, and that you have read and agree to the Terms of Use and the Privacy Policy.
With the underlying processor and system design for Blue Gene now completed, IBM's attention is turning to software, according to the company, and in the last few months IBM has begun talking to users and software developers in a variety of industries to see where else Blue Gene's unique design may apply.
Threshold Digital Research Labs, a digital animation company, has expressed interest.
"We're very, very interested in anything that increases the amount of horsepower we can put on a particular project," said George Johnsen, Threshold's chief animation and technical officer.
"We have tremendous interest from the outside world to try and get access to the machine," Alan Gara, chief architect of Blue Gene. "If we really opened up the machine and said, 'Go ahead, everyone can have access to it,' we would be getting many more people. We're kind of throttling them back just because we can't handle them all right now."
Gara's team is hoping that their Blue Gene prototype will surpass Japan's 36-teraflop Earth Simulator - which has been ranked the world's fastest computer since 2002 - by the time the next top 500 list is published next November. A teraflop is one trillion mathematical operations per second.
By early 2005, when Lawrence Livermore's $100m (£5.5m) Blue Gene system is running, it should easily eclipse the Earth Simulator with an estimated maximum performance of more than 200 teraflops, Gara said.
Blue Gene uses specially manufactured 700MHz PowerPC processors that are built with what IBM calls a "system on chip" design that is intended to consume minimal power. Blue Gene systems are built into special racks that are tilted to maximise cooling efficiency.
The Lawrence Livermore system is expected to use between 1.6 and 1.7 megawatts of power, far less than the 4.5 megawatts that Livermore expects a 100-teraflop supercomputer called ASCI Purple to use when it is completed in December of this year, said Michael McCoy, deputy associate director for high performance computing at Lawrence Livermore.
Robert McMillan writes for IDG News Service

Read more on Server hardware