Fibre channel revenue will double, despite doubts
The Communication Industries Research group (CIR), fibre channel revenue will double to $1.7bn in 2008, driven by growth in...
The Communication Industries Research group (CIR) has forcast that fibre channel revenue will double to $1.7bn in 2008, driven by growth in storage area networking amid claims that fibre channel will cease after 2007.

Download this free guide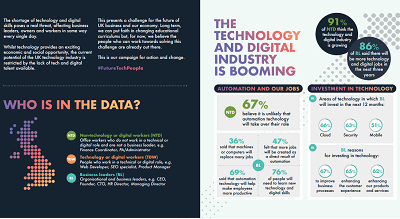 Infographic: Future-proofing UK technology
The current potential of the UK technology industry is restricted by the lack of tech and digital talent available. Read through this challenge for the future of UK business and our economy.
By submitting your personal information, you agree that TechTarget and its partners may contact you regarding relevant content, products and special offers.
You also agree that your personal information may be transferred and processed in the United States, and that you have read and agree to the Terms of Use and the Privacy Policy.
"While Sans are often associated with disaster recovery and backup, rapid data retrieval for financial trading is sustaining much of the market's growth," it said.
"Additionally, with larger frame sizes, and its Class 1 dedicated point-to-point operation, fibre channel is successfully withstanding the challenge from Ethernet in the storage market."
The lack of interest in merging Lans and Sans is stunting the growth of Ethernet for storage applications, it added.
Sans, particularly ones with more than 5TBytes of capacity, deliver a lot of data to relatively fewer end points. Ethernet is meant for delivering smaller amounts of data to more end points.
Its data frames can hold up to 1,518 bytes, whereas fibre channel frames can hold 2,048 bytes - 25% more.
Fibre channel also has a link path or virtual network set up for point-to-point communications with paths across the San set up from the HBA through switch ports to Logical Unit Numbers and disc drives.
When Ethernet is used for large data flows with TCP/IP, the protocol requires acknowledgments to be sent in response to delivered packets. Fibre channel is better suited to San data traffic flows, and its advantages strengthen as the San's stored data increases in size, CIR said.
Below around 5TBytes capacity Ethernet appeared to have the advantage.
It is easier to upgrade a Nas to an Ethernet San than fibre channel because the existing Lan infrastructure and IT staff knowledge can be used.
Fibre channel's roadmap from 1gbps to 2gbps to 4gbps to 8gbps with backward compatibility should also enable it to keep ahead as Ethernet heads towards 10gbps and faster speeds in the datacentre.
Chris Mellor writes for Techworld.com