Oracle unlikely to snare PeopleSoft, say analysts
In its complaint filed to block Oracle's takeover of PeopleSoft on antitrust grounds, the US Department of Justice cites the...
In its complaint filed to block Oracle's takeover of PeopleSoft on antitrust grounds, the US Department of Justice cites the words of Oracle's co-president Chuck Phillips to back its argument that the enterprise applications market has only three top-tier suppliers.

Download this free guide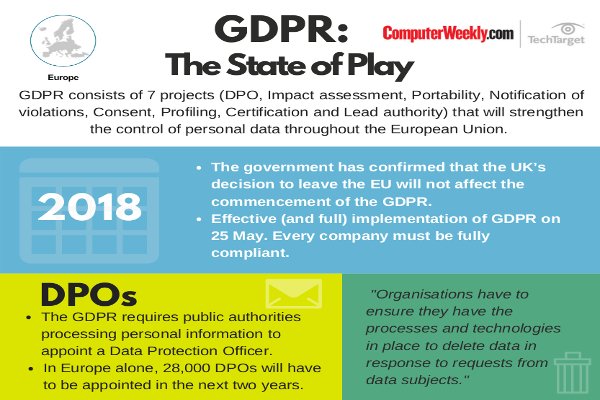 Infographic: GDPR - The State of Play
Get the latest information on how GDPR is going to affect your business and how to avoid any unwanted fines with this simple infographic.
By submitting your personal information, you agree that TechTarget and its partners may contact you regarding relevant content, products and special offers.
You also agree that your personal information may be transferred and processed in the United States, and that you have read and agree to the Terms of Use and the Privacy Policy.
The DOJ used a report Phillips filed in 2002, in which he described the back-office applications market for global companies as one dominated by "an oligopoly comprised of SAP, PeopleSoft, and Oracle".
The DoJ's argument that an Oracle acquisition of PeopleSoft would unacceptably, limit industry competition hinges on its contention that only SAP, PeopleSoft and Oracle meet the needs of large companies, for whom robust software and supplier stability is essential. Oracle is challenging the DOJ's lawsuit, countering that the business applications market is fragmented and far broader than the DOJ recognises.
Since joining Oracle, Phillips has emerged as one of the company's top strategists and an architect of its hostile, $9.4bn bid for control of PeopleSoft.
The DOJ reprinted in its complaint a paragraph from his 2002 report stating, "The market is down to three viable suppliers who will help re-automate the back office business processes for global enterprises for years to come."
Several analysts covering the enterprise applications market said they agreed with the DoJ's argument that for combined financial and HR management software, the PeopleSoft/Oracle/SAP triad dominates the US market.
Gartner analyst Lee Geishecker said bankruptcies, mergers and acquisitions have thinned the ranks considerably, and companies that want to buy HR and financial systems from a single supplier now have few options.
"I don't believe there's as much fragmentation as [Oracle's] argument states," she added.
PeopleSoft's management remains firmly opposed to the deal, and can deploy the company's "poison pill" anti-takeover provisions to block an unwanted takeover.
Even if Oracle escapes the poison pill, it still has to convince PeopleSoft's stockholders to tender their shares in favour of Oracle's $26-per-share cash offer.
The number willing to do so has dropped steadily since Oracle launched its campaign in June.
Stacey Cowley writes for IDG News Service
Read more on IT legislation and regulation