WebEx connects with BT in Europe
BT Group has agreed to resell WebEx Communications' web conferencing services. The company will offer the WebEx service together...
BT Group has agreed to resell WebEx Communications' web conferencing services. The company will offer the WebEx service together with its own teleconferencing services as a new product called "BT Meeting Centre, powered by WebEx".

Download this free guide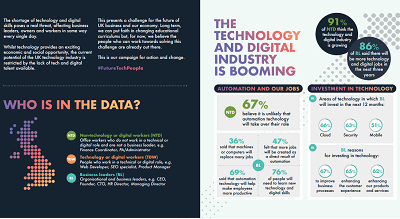 Infographic: How to future-proof UK technology
There is no doubt that the technology industry is booming right now, bringing with it exciting social and economic opportunities. However, there is a real fear that the UK industry may be stunted due to the lack of talent available. This e-guide helps to break down the future fears and expectations of dozens of business leaders and tech workers.
The web conferencing service can be accessed through BT's MeetMe and its teleconferencing reservation system.
WebEx is considered the market leader in web conferencing. Its rivals include Microsoft and Cisco Systems. Earlier this month it reported net income for last year's fourth quarter of $34.5m on revenue of $53.9m. More than 90% of that revenue was generated in the US.
Partnerships are a key part of WebEx's strategy to grow in Europe, said Tony Gasson, WebEx vice president for Europe, the Middle East and Africa. WebEx already has deals with other European telecommunications companies, including France Telecom and TeliaSonera, but BT is its biggest partner to date.
"I would expect BT to be a predominant partner in Europe, absolutely. A major part of the European accounts are based in the UK, there is a big market to be won," he said.
BT will offer the WebEx service throughout Europe, but with a focus on its home market, in English and in German. The web conferencing service is also offered by other partners in Swedish, Chinese and Japanese. Spanish will be added soon.
Although Microsoft said it is working on localised editions of its Live Meeting web conferencing offering, it has no language or availability details.
Hooking up with BT is a smart and timely move by WebEx, said Forrester Research analyst Claire Schooley.
"WebEx has been strongest in North America, no doubt about that. The European market is going to grow and it is going to grow very fast," she said. "WebEx does an incredible marketing job in the US. When you say web conferencing, people say WebEx."
Microsoft, which acquired Web conferencing company PlaceWare about a year ago, does not yet pose much of a threat to WebEx in Europe, according to Schooley. "Microsoft will be a very strong competitor at some point worldwide. Right now they are still in the early stages of their service."
Cisco completed its acquisition of another large web conferencing player, Latitude Communications, last month.
Schooley expected the US web conferencing market in terms of revenue to hit close to $875m in 2004, growing to $2.2bn by 2008. In Europe the market is expected to be at $200m in 2004, growing easily up to $900m by 2008, she added.
Joris Evers writes for IDG News Service