European Parliament backs Galileo satellite programme
The European Parliament has given its backing to the Galileo satellite programme, a network of 30 satellites due to start...
The European Parliament has given its backing to the Galileo satellite programme, a network of 30 satellites due to start operating in 2008 in mid-orbit around the world.

The European Commission believed Galileo would revolutionise the telecommunications, transport, agriculture and fishing industries.

MEPs stressed the "enormous significance of Galileo for the EU's industrial, transport, technological and environmental development".

Earlier this month, European commissioner for transport, Loyola de Palacio said her US counterparts have softened their objections to Galileo, and that she hoped to sign a co-operation agreement with the US in the coming months.

US officials have doubted the need for Galileo, saying the American Global Positioning System (GPS) can serve everyone's needs. They viewed the European project as a rival and discouraged the EU from pursuing it.

However, momentum behind Galileo is growing. There are no remaining funding obstacles from EU member states, and the project was boosted last autumn when China agreed to co-operate in its financing and development.

De Palacio said positive statements in recent weeks by US officials "reinforce the EU's goal of defining, together with our US partners, the standard for the best possible civil system for the benefit of users worldwide".

De Palacio's meetings with President Bush in Washington DC in the next few days will address how Galileo will co-exist with GPS. One fundamental difference between the two systems is that GPS is used partly for military purposes, while Galileo is being designed exclusively for civilian needs.

Until the first Gulf War in 1991, a feature of GPS, called Selective Availability, upgraded GPS signals received by by commercial GPS euqipment. A lack of military GPS receivers during that war and the need to outfit some US troops with commercial receivers, SA was turned off, resulting in an improved signal for commercial users of GPS. In May 2000, President Clinton ordered SA to be discontinued.

Download this free guide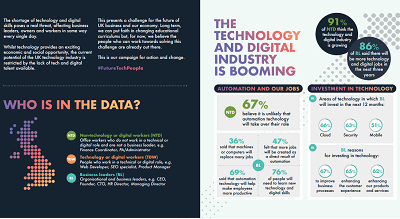 Infographic: Future-proofing UK technology
The current potential of the UK technology industry is restricted by the lack of tech and digital talent available. Read through this challenge for the future of UK business and our economy.
By submitting your personal information, you agree that TechTarget and its partners may contact you regarding relevant content, products and special offers.
You also agree that your personal information may be transferred and processed in the United States, and that you have read and agree to the Terms of Use and the Privacy Policy.
De Palacio will seek to ensure that whatever agreement she and the US reaches, the exclusively civilian purpose of Galileo will be maintained.
Paul Meller writes for IDG News Service