More firms consider grid computing technology
One in five companies may deploy grid technology during the next two years, according to a survey of some 550 database...
One in five companies may deploy grid technology during the next two years, according to a survey of some 550 database administrators and developers.

Download this free guide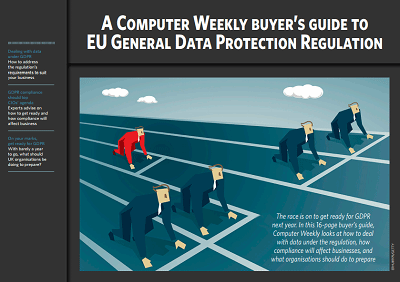 Computer Weekly's Buyer's Guide to GDPR
The race is on to get ready for GDPR next year. Computer Weekly looks at how to deal with data under the regulation, how compliance will affect businesses, and what organisations should do to prepare.
By submitting your personal information, you agree that TechTarget and its partners may contact you regarding relevant content, products and special offers.
You also agree that your personal information may be transferred and processed in the United States, and that you have read and agree to the Terms of Use and the Privacy Policy.
Santa Cruz-based Evans Data asked developers about their grid plans and found that 12% of the respondents have deployed grid technology or plan to do so in the next year. Another 9% said they expect to deploy a grid computing strategy in the next two years.
"It's still relatively new technology, but the fact that one out of five are seriously considering it is significant," said McKendrick.
McKendrick cited Oracle's decision last year to incorporate grid technology in its flagship database product, 10g, as a major reason behind the growing adoption of grid computing in enterprises.
Meanwhile, IDC analyst Dan Kusnetzky said utility computing "requires grid because that's the hardware architecture underneath utility computing".
IDC has found that roughly one in five companies plans to move to utility computing in the next two years. Specifically, the survey found that 5.2% have adopted utility computing, 3.5% plan to do so in six months, 4.9% this year and 6.4% in two years.
Kusnetzky predicted that grid capabilities are likely to move into corporate IT shops as companies take their basic products and add grid capabilities in release upgrades. "That's probably how this will evolve in the market as people will, in essence, end up with a product that has the capability." He sees grid computing as the latest term for describing the evolution of distributed computing.
Grid computing allows companies to use numerous machines to perform a process or run an application, acting as a single machine. It can reduce the cost of hardware by improving utilisation rates while increasing computing power without the need to add new CPUs.
Adoption has so far primarily been among companies that run compute-intensive applications such as those used in financial analysis and medical research.
Patrick Thibodeau writes for Computerworld
Read more on Server hardware