US spam bill awaits Bush signature
The US House of Representatives has approved an amended version of a bill that will allow penalties of up to $6m and five years...
The US House of Representatives has approved an amended version of a bill that will allow penalties of up to $6m and five years in jail for sending some e-mail spam, the last step before the bill can be signed into law by President George W Bush.

Download this free guide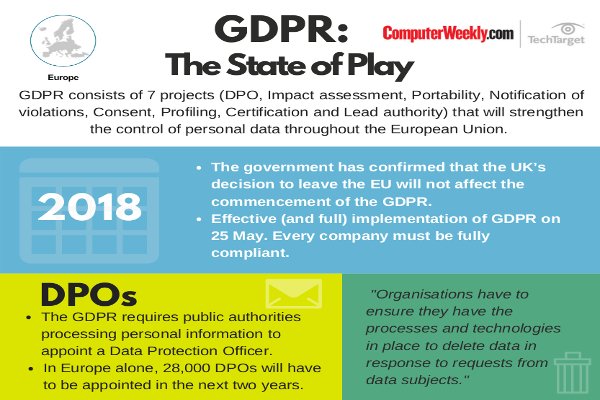 Infographic: GDPR - The State of Play
Get the latest information on how GDPR is going to affect your business and how to avoid any unwanted fines with this simple infographic.
By submitting your personal information, you agree that TechTarget and its partners may contact you regarding relevant content, products and special offers.
You also agree that your personal information may be transferred and processed in the United States, and that you have read and agree to the Terms of Use and the Privacy Policy.
Senate sources have said they expect the bill to be signed into law by the president by the end of the year.
About 13 billion pieces of unsolicited commercial e-mail are sent each day, which represents about half of all e-mail sent.
Critics have said the Can-Spam bill will allow "legal" spam to continue because it requires that e-mail users opt out of receiving commercial e-mail, instead of requiring that spammers receive opt-in permission before sending e-mail. Some critics have also decried the bill authors' decision not to allow individual e-mail users to sue spammers.
Can-Spam allows internet service providers to sue spammers and state attorneys general to sue on behalf of users. This version also includes a provision requiring the US Federal Trade Commission to come back to Congress within six months with recommendations on how to set up a national do-not-spam list, similar to the national do-not-call telemarketing list now in effect in the US.
The bill includes a criminal penalty of up to a year in jail for sending commercial e-mail with false or misleading header information, plus criminal penalties, ranging up to five years in prison, for some common spamming practices, including hacking into someone else's computer to send spam, using open relays to send spam intended to deceive and registering five or more e-mail accounts using false information and using those accounts to send bulk spam.
A House version of the bill increased penalties from the original Senate version passed in October, with up to $250 per spam e-mail with a cap of $2m that can be tripled to $6m for aggravated violations. The first Senate version allowed fines of up to $100 per piece of spam sent with misleading header information, with a maximum fine of $3m for aggravated cases.
The House bill also applies its requirements on all pieces of commercial e-mail, not just unsolicited commercial e-mail, as required in the Senate bill. Requirements on commercial e-mail include a valid reply-to address, a valid postal address and accurate headers and subject lines.
Grant Gross writes for IDG News Service
Read more on IT legislation and regulation