BBC to sell technology subsidiary
The BBC is to sell its wholly-owned commercial subsidiary BBC Technology, following a review which identified potential annual...
The BBC is to sell its wholly owned commercial subsidiary BBC Technology, following a review which identified potential annual savings of between £20m-£30m for the corporation if its technology services were outsourced.

Download this free guide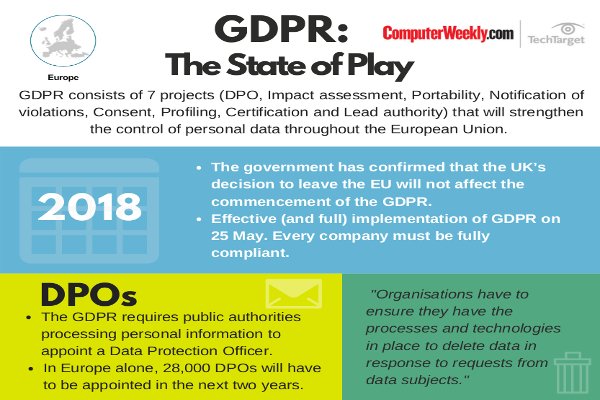 Infographic: GDPR - The State of Play
Get the latest information on how GDPR is going to affect your business and how to avoid any unwanted fines with this simple infographic.
By submitting your personal information, you agree that TechTarget and its partners may contact you regarding relevant content, products and special offers.
You also agree that your personal information may be transferred and processed in the United States, and that you have read and agree to the Terms of Use and the Privacy Policy.
The review concluded that the BBC should conduct an EU procurement process in which the winner would buy BBC Technology and, as part of that process, take on about 1,400 staff.
BBC Technology was created in 2001 to deliver savings to the BBC through its contract for technology services, including desktop support and to generate third-party revenues.
The company has won contracts in the UK and abroad with companies such as Hutchison 3G, ESPN (US sports channel), DirecTV and National Public Radio. Last year, BBC Technology delivered £19m in profits and price reductions back to the BBC.
An internal review carried out by BBC Technology concluded that for the subsidiary to be competitive, further rationalisation would be needed, which would have resulted in substantial job losses.
Greg Dyke, director general of the BBC said, "By taking our technical support contract to the market and selling BBC Technology we can achieve significant savings over a sustained period of time. We would also expect to receive a significant sum of cash for the business.
Broadcast union Bectu, which is meeting BBC management next week, expressed fears that any new owner is likely to cut staff to meet the savings target once they take the company over, and might not offer severance terms comparable with the BBC's.
The union also expressed concern about the risk posed to BBC activities by handing control of its communication and IT networks over to a private company. "Worse than selling the family silver, they're trying to give away the BBC's entire nervous system," said one union official.
Dyke moved to assure staff that assurances about their position will be a key factor in deciding the eventual winner.
"A major factor in this process will be ensuring that we make employment terms a priority and future pension arrangements will be an important issue for the BBC during the commercial negotiations. Obviously, we will be consulting fully with staff and Bectu [the broadcast union]. We have no plans to sell any other of our commercial subsidiaries."
The BBC's governors have approved the proposal for sale and procurement, subject to the DCMS approval. It is anticipated that the contract will begin by the end of next year.
Read more on IT legislation and regulation