Sun woos Tru64 users with HP Away programme
Sun Microsystems is to launch a customer migration programme aimed at enticing users of Hewlett-Packard's 64-bit Tru64 Unix...
Sun Microsystems is to launch a customer migration programme aimed at enticing users of Hewlett-Packard's 64-bit Tru64 Unix operating system on the Alpha microprocessor to Sun's UltraSPARC processor and Solaris operating system.

Download this free guide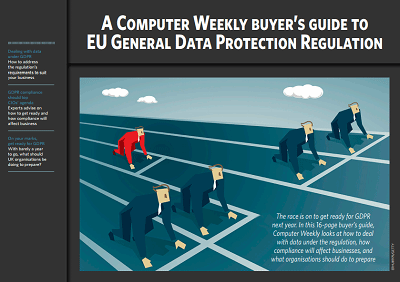 Computer Weekly's Buyer's Guide to GDPR
The race is on to get ready for GDPR next year. Computer Weekly looks at how to deal with data under the regulation, how compliance will affect businesses, and what organisations should do to prepare.
The HP Away programme, which will launches on 21 July, will be "designed to aggressively take market share from a key competitor while also offering customers a more dependable solution", according to Sun.
The program will target 400,000 Alpha customers, although Sun did not say whether it would also target Alpha users running other operating systems such as HP's Open VMS or the Alpha version of Microsoft's Windows NT.
Last year, Sun launched its Blue-Away programme aimed at bringing IBM's mainframe and NUMA-Q users over to Solaris. IBM, in turn, retaliated with a migration program of its own, aimed at Solaris users.
These kinds of customer poaching programs can pay for themselves if they yield one or two major accounts, said Gordon Haff, an analyst with industry research firm Illuminata., but admitted that none of these programs are enormously successful.
"It's always tough to displace an installed system. You're really talking about nibbling the margins. Unless a company is really in free fall and has abandoned major product lines, it's hard for someone else to get more than a scattered win here and there," Haff said.
HP's final generation of the Alpha processor, the EV79, will be introduced next year, according to HP's director of marketing for business critical systems, Don Jenkins.
The company will continue to sell Alpha systems through 2006, and will support Alpha and its Tru64 Unix operating system until 2011, but it is working with customers, via its Alpha Retain Trust Program, to help them migrate to Windows, Linux, and HP-UX system that use the Itanium processor, he said.
Alpha customers, particularly those running Tru64, would be well advised to at least consider Sun's plan, said Haff. "If they have to move to a different operating system and a different processor anyway, there's very little reason for them not to be looking at other vendors."
Robert McMillan writes for IDG News Service
Read more on Server hardware