HP to unveil new low-end NAS array
Hewlett-Packard will begin shipping a network attached storage (NAS) server on Tuesday that will cost $5,000 (£3,030) less than...
Hewlett-Packard will begin shipping a network attached storage (NAS) server on Tuesday that will cost $5,000 (£3,030) less than the least expensive Windows-powered NAS array in its current product line.

Download this free guide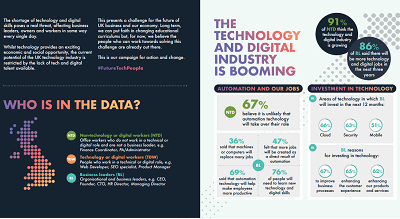 Infographic: How to future-proof UK technology
There is no doubt that the technology industry is booming right now, bringing with it exciting social and economic opportunities. However, there is a real fear that the UK industry may be stunted due to the lack of talent available. This e-guide helps to break down the future fears and expectations of dozens of business leaders and tech workers.
The StorageWorks NAS 1000s will cost $2,999 (£1,820) and will include a number of features already available in HP's more expensive StorageWorks products.
These include storage drives that can be replaced without stopping the machine and a "quick restore" mechanism that lets users restore the machine to its original "factory install" state within 15 minutes.
"Our goal is to deliver an enterprise-level device at an entry-level cost," said Mark Nagitis, HP's director of product marketing for infrastructure and network storage solutions. "One of our target markets for this device is the enterprise branch office."
The storage servers will be based on 2.8GHz Pentium 4 processor machines with 512Mbytes of Ram built by Taiwanese original equipment manufacturer Quanta Computer.
They will contain four ATA (Advanced Technology Attachment) hard discs that will vary in size between 80Gbytes and 250Gbytes each, depending on the machine.
The $2,999 model will use 80Gbyte discs; a $4,999 model will contain 160Gbyte components; and a $6,999 model will ship with 250Gbyte drives, giving it a total storage capacity of 1Tbyte.
The main differences between the 1000s and HP's next model up, the StorageWorks NAS b2000, will be that the b2000 is based on a Proliant, rather than Quanta, architecture.
It uses higher performing SCSI (small computer serial interconnect) rather than ATA drives and the more expensive b2000 will have specialised hardware that handles the system's redundant array of independent discs (Raid) processing. Raid on the 1000s will be done by software running on the system's microprocessor.
The new systems will run a Windows-powered operating system, a customised version of Windows that is optimised for file serving. They will be available for purchase on Tuesday.

Robert McMillan writes for IDG news service