EMC reduces Clariion pricing
EMC has enhanced its its entry-level Clariion CX200 line of networked storage systems and will drop entry-level pricing to the...
EMC has enhanced its its entry-level Clariion CX200 line of networked storage systems and will drop entry-level pricing to the $10,000 range.
When it was launched last November, the CX200 was available only in dual-controller configurations, and had a list price of roughly $30,000, said EMC senior director of Clariion Mike Wytenus. Single-controller CX200 systems are also available.

Download this free guide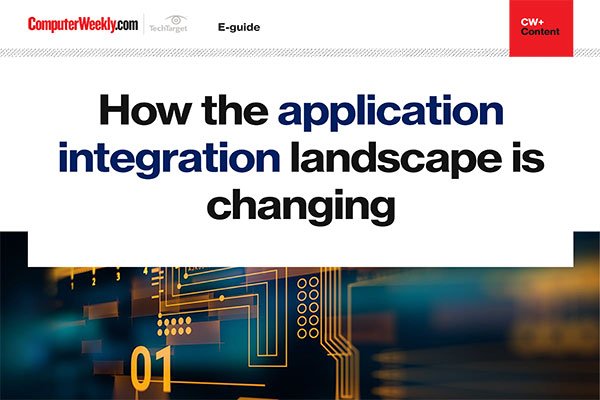 8 ways in which the application integration lanscape is evolving
We take a look at how technologies like Distributed Computing and the Common Object Model have been refined into web services, service-oriented architecture and composable applications and microservices.
"That allows us to get much more aggressive from a pricing perspective," he added. A $10,000 CX200 would contain about 100G bytes of storage.
The CX200's total storage capacity will also get a boost because the systems will now support ATA (AT Attachment) drives, said Wytenus.
Previously the CX200 could store a maximum of 4.4Tbytes of data, using Fibre Channel drives. Because of the ATA support, however, the maximum capacity of the storage systems will now be 6Tbytes.
The systems will be faster, capable of 40,000 I/Os per second, which is 60% faster than their predecessors. They will also feature an a software upgrade that will let customers do their own upgrades to the CX200's operating system or applications without having to depend on an EMC-certified representative.
"What we're offering is the ability for customers to do it themselves," said Wytenus.
Meanwhile, Veritas Software has upgraded its Bare Metal Restore automated recovery software.
Version 4.6 of Bare Metal Restore will include a feature called "dissimilar system restore" that will speed up the task of moving a computer's system image and data to another machine.
"What this feature does is it allows you to restore a server to a different type of hardware base in a Windows environment," said Veritas senior director of product marketing Bob Maness.
Dissimilar system restore could be used by an administrator who was, for example, running Windows on a Dell system and wanted to move the entire system over to a Gateway machine.
Working with another Veritas product, Veritas NetBackup, Bare Metal Restore would then perform a "comprehensive configuration and discovery process" to get the system running on the new hardware automatically.
Bare Metal Restore 4.6 will be available in mid-June, and will cost $900 per Windows client and $1,000 per Unix client. It will be available as a free upgrade to existing 4.5 customers.
Read more on Integration software and middleware