Novell CEO retracts 'immature' Linux remark
Novell chairman and chief executive officer Jack Messman has issued a written apology after angering members of the Linux...
Novell chairman and chief executive officer Jack Messman has issued a written apology after angering members of the Linux community when he called Linux "an immature operating system".
Messman made his original remarks last week when he described Novell's decision to use Linux as the migration path of the future for its flagship NetWare network operating system.

Download this free guide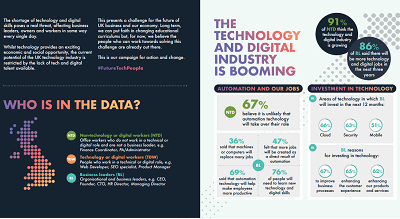 Infographic: Future-proofing UK technology
The current potential of the UK technology industry is restricted by the lack of tech and digital talent available. Read through this challenge for the future of UK business and our economy.
While charting the company's direction with Linux in the interview, Messman called it "immature" because it "hasn't had somebody like Novell worrying about making it robust, reliable and scalable for very much time".
Now, Messman has had a change of heart about his remarks. In a posting on the Linux Weekly News Web site, Messman said he regretted some of his remarks.
"Let me clarify some of the comments I've made around Novell's move to put NetWare services on the Linux kernel; and let me apologise for my choice of words in the phrase 'immature operating system'," he said in the posting.
"Clearly Novell wouldn't be taking this bold step if we didn't feel Linux was a solid operating system with tremendous momentum in the marketplace. In fact, we believe Linux is quite stable and scalable. If we didn't, we would not commit to using it with our NetWare 7.0 release.
"We certainly recognise the value Linux is providing today to customers around the globe," he wrote.
"In fact, the strategy Novell announced this week was the outgrowth of what we've been hearing from many of those customers. Simply put, Linux will continue to grow with or without Novell.
"Novell wouldn't be spending the tremendous time, money and resources to make this strategy a reality if we didn't believe in the present and future of Linux," he wrote.
Messman said his company endorsed the structure of the open-source community, and valued the talents seen in the community of developers who have been working on Linux.
"We are not experts here, we need your help," he said. "We want to work in close co-operation with the open source community to further the growth of Linux. By doing this, we can add even more value for developers and ultimately our customers."
A Novell spokesman said Messman's apology came after company officials realised that the CEO's remarks "didn't reflect Novell's real position on our support of Linux".