Low flash memory demand dents Intel's profits
Intel's first-quarter earnings for 2003 were slightly down compared with the same period last year, as higher demand for its...
Intel's first-quarter earnings for 2003 were slightly down compared with the same period last year, as higher demand for its processors was offset by lower demand for its flash memory products.

Download this free guide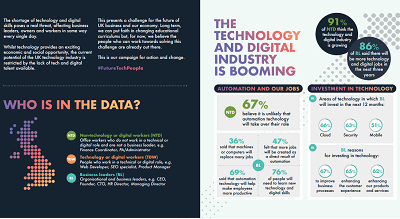 Infographic: How to future-proof UK technology
There is no doubt that the technology industry is booming right now, bringing with it exciting social and economic opportunities. However, there is a real fear that the UK industry may be stunted due to the lack of talent available. This e-guide helps to break down the future fears and expectations of dozens of business leaders and tech workers.
Revenue for the first quarter was $6.75bn, down slightly from $6.78bn in the first quarter of 2002. Net income was $915m, down from $936m a year earlier.
Second-quarter revenue is expected to fall between $6.4bn and $7bn, although Intel acknowledged that continued uncertainty in global economic conditions such as the war in Iraq and the spread of Severe Acute Respiratory Syndrome could affect demand .
"No one can predict world events. But we are doing what we can to keep the company in the best financial condition possible," said Andy Bryant, Intel's chief financial officer, on a conference call Tuesday afternoon.
Intel believed it lost market share in the flash memory market during the first quarter. It raised flash memory prices in January, and the effects of a seasonal downturn in mobile phone purchases were exaggerated by a decrease in demand for higher priced products.
The Intel Architecture business, which makes Intel's processors for desktops, notebooks, and servers, once again was the only segment of the company to post an operating profit, generating $1.91bn.
Growth was strong among Intel's mobile products, buoyed mainly by the launch of Intel's Centrino package in March.
The wireless communications and computing group, which makes Intel's XScale processors and flash memory, reported an operating loss of $94m. The Intel communications group, which makes network processors, posted an operating loss of $140m.
Intel reaffirmed its guidance for 2003 capital expenditures, expecting to spend between $3.5bn and $3.9 bn. Spending on research and development for the year will be about $4bn.
Asia-Pacific was still the dominant destination for Intel products. Revenue from that region, excluding Japan, made up 39% of Intel's worldwide revenue, up from 36% in the first quarter last year.
Revenue from the Americas slipped a few percentage points, while revenue from Europe was up slightly as a result of corporate PC upgrades.
Read more on IT supplier relationship management