Defra outsourcing bid slammed in parliament
A former local government computer chief has launched a fierce attack on the Department of Environment, Food and Rural Affairs'...
A former local government computer chief has launched a fierce attack on the Department of Environment, Food and Rural Affairs' "woeful'' decision to outsource its IT system.
David Taylor, the MP for North-West Leicestershire, called a special debate at the end of Commons business to condemn "the sad Gadarene rush of departments towards the expensive abandonment of control called "outsourcing".

Download this free guide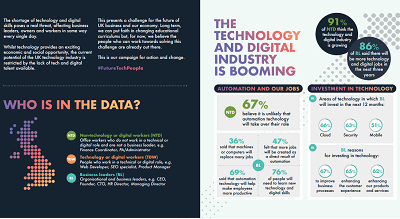 Infographic: Future-proofing UK technology
The current potential of the UK technology industry is restricted by the lack of tech and digital talent available. Read through this challenge for the future of UK business and our economy.
By submitting your personal information, you agree that TechTarget and its partners may contact you regarding relevant content, products and special offers.
You also agree that your personal information may be transferred and processed in the United States, and that you have read and agree to the Terms of Use and the Privacy Policy.
The former Leicestershire County Council IT manager is a member of the Commons Committee that oversees Defra's activities and concentrates on the department's IT strategy.
Taylor said: "We on the committee were all disappointed at the weak, perhaps even woeful, approach to IT.
"My public sector experience has been that outsourcing can be the last desperate act of an IT-illiterate top management who are drowning in a whirlpool of technology they do not understand, and who are seduced by private sector IT sharks into buying solutions claimed to be a panacea for all ills, including their organisational incompetence.
"I regret the lack of an IT strategy, other than to sell off IT and throw Defra to the mercies of the private sector.''
The Labour MP said that after the foot and mouth epidemic of 2001, Defra opted for privatisation before developing its IT strategy which, he said, "flies in the face of all the potentially successful approached that I have encountered over decades".
He concluded his speech by saying: "The chosen route of privatisation is as astonishing as it is unnecessary.
"It could well prove to be a most costly folly, which will doubtless be critised by future MPs and ministers, but defended by that impervious layer of top civil servants who forget nothing and learn nothing, and who are paid for by poor, long-suffering taxpayers and citizens.''
Rural affairs minister Alum Michael said he had thoroughly questions the IT strategy for outsourcing when he took office.
He said he agreed with the department that its job was tackling the problems of the countryside, not providing IT services as part of its "core business''.
Mr Michael said that Defra had a "major programme to deliver'' and outsourcing IT was a key way of doing that and getting the best way of meeting the Department's needs. He said the project would be fully tendered under EU proposals and the scheme would be led by a recently appointed "IT director from the private sector who has led previous outsourcing projects''.