Law to address convergence of comms systems
The Queen's Speech setting out the Government's legislative programme for the coming Parliament promised a Communications Bill...

Download this free guide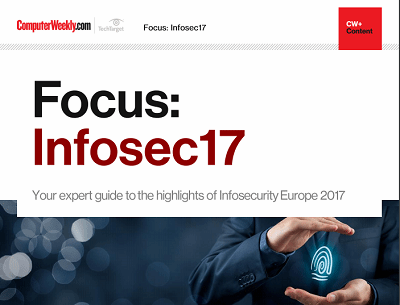 From forensic cyber to encryption: InfoSec17
Security technologist Bruce Schneier's insights and warnings around the regulation of IoT security and forensic cyber psychologist Mary Aiken's comments around the tensions between encryption and state security were the top highlights of the keynote presentations at Infosecurity Europe 2017 in London.

By submitting your personal information, you agree that TechTarget and its partners may contact you regarding relevant content, products and special offers.

You also agree that your personal information may be transferred and processed in the United States, and that you have read and agree to the Terms of Use and the Privacy Policy.

The Queen's Speech setting out the Government's legislative programme for the coming Parliament promised a Communications Bill which will create Ofcom - a single regulator for the broadcasting, IT and communications industries.



IT professionals will be interested in the detail of the Bill to see if it meets their needs in the current atmosphere of convergence between the sectors.

The Communications Bill will also allow for more cross-media ownership.

The Queen's Speech, delivered last week, detailed more than 19 Bills, three draft bills and several White Papers and consultative Green Papers. It also proposed a number of other measures that directly affect small IT, computer and software companies.

There will be more to come in the chancellor's pre-budget statement later this month which will look at a range of tax and planning incentives to encourage business, especially smaller high-tech firms in deprived areas of the country.

This will be included in a Local Government Bill which will set out the framework for new enterprise areas with more relaxed planning regimes and tax and other financial incentives to attract companies - especially in IT and related sectors - to deprived areas.

The flesh will be put on the bones of the proposal in Gordon Brown's statement which will spell out the financial package.

The Queen's Speech also promised measures to crack down on fraud, corruption and international crime which often now involve IT:

Judges will be able to sit without juries - but possibly with expert assessors - in complex fraud trials


A new law will set out a single, comprehensive corruption offence


The UKwill work with European Union and international partners to produce a single, international legal approach to cross-border crime.

The proposed elected regional assemblies will be given the power to direct taxpayers' money to local priorities - especially in terms of enterprise and job creation - once again with cutting edge skills to the fore. These powers will be greater than the current regional development agencies.

The first referendums on the new assemblies will be held in the North-East and North-West.
Read more on IT risk management