Unisys launches prebuilt Microsoft database servers
Unisys has introduced a line of servers that come pre-configured with software and hardware from Microsoft, EMC and Veritas,...

Download this free guide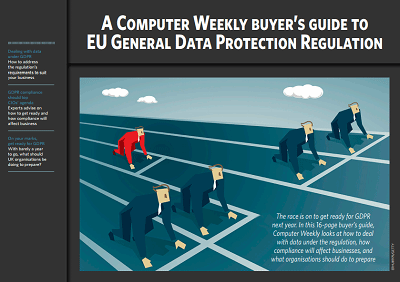 Computer Weekly's Buyer's Guide to GDPR
The race is on to get ready for GDPR next year. Computer Weekly looks at how to deal with data under the regulation, how compliance will affect businesses, and what organisations should do to prepare.

Unisys has introduced a line of servers that come pre-configured with software and hardware from Microsoft, EMC and Veritas, which aim to reduce the time and hassle involved in setting up large databases.



The ES7000 servers are based on Intel processors and will run Microsoft's Windows Datacenter Server and its SQL Server database. The idea is to make it easier for organisations to deploy a large database as a "ready to run" package rather than by assembling the systems piece by piece.

The configurations on offer will be for workloads ranging from 7,000 to 27,000 concurrent users, with a storage capacity ranging from one terabyte to nine terabytes. Information about pricing and when the systems would be available was not immediately available.

The systems will be offered in clustered and non-clustered configurations and will also include networking and storage gear and backup services. Other vendor partners involved include Brocade Communications Systems and NetIQ.

Microsoft has worked hard to boost the adoption of its server software in corporate data centres and Unisys has been a significant partner in those efforts, said Rob Enderle, a research fellow with Giga Information Group.

However, he added that Microsoft is still battling industry scepticism as to whether its software is robust enough for such large-scale back-end systems.

The economic downturn could work in its favour, he said. IT departments have shrunk and some analysts see a need for systems that can be set up using fewer IT staff and less expertise. Unisys may well be trying to capitalise on the perceived need for such "plug-and-play" offerings.

For companies whose needs would not be met by the prebuilt offerings, Unisys will offer a free Web-based tool that helps them figure out what configuration they need. IT staff can enter information about transactional workload, system type, and storage and availability requirements and the tool will return a recommended configuration. The tool is at www.unisys.com/datacenter/sizing.

Oracle has also worked with hardware partners to offer preconfigured systems for its Oracle9i database. In June, it said it would work with Dell and Red Hat to sell Linux-based database clusters using standard Intel-based servers.
Read more on Server hardware