Dutch network operator picks Global Crossing
Surfnet has announced it is going to use Global Crossing Holdings for an expansion of its network, despite the fact that Global...

Download this free guide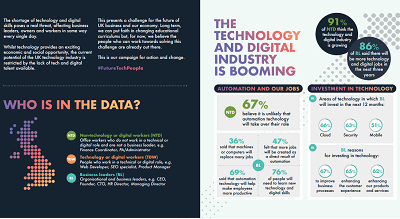 Infographic: How to future-proof UK technology
There is no doubt that the technology industry is booming right now, bringing with it exciting social and economic opportunities. However, there is a real fear that the UK industry may be stunted due to the lack of talent available. This e-guide helps to break down the future fears and expectations of dozens of business leaders and tech workers.

Surfnet has announced it is going to use Global Crossing Holdings for an expansion of its network, despite the fact that Global Crossing is operating under Chapter 11 bankruptcy protection.



The 15-year contract between Surfnet, which operates a computer network for higher education and research in the Netherlands, and Global Crossing is worth around $1m (£633m).

Under the contract there are some special conditions. An 18km branch from a Global Crossing backbone in Dwingeldoo, Netherlands, will become the property of Surfnet should Global Crossing cease as an operating concern, the company said.

"We have agreed that in the event of us not coming out of Chapter 11, the ownership of the tail circuit would revert to Surfnet and they could simply switch backbone provider," said Mish Desmidt, a Global Crossing spokesman.

"It is purely a contingency measure we built in at the request of the customer that safeguards the customer's interest in the unlikely event the financial restructuring of Global Crossing is unsuccessful," Desmidt said.

The cable to Dwingeloo, branching off Global Crossing's backbone that runs between Amsterdam and Hamburg, is being constructed. Service is set to start on 1 September, Desmidt said.

Mariska Herweijer, a Surfnet spokeswoman, said Global Crossing came out of a routine selection process as "best quality for the lowest price". Surfnet is not worried about a Global Crossing bankruptcy because the contract is for dark fibre, which means Surfnet will run the network itself, using its own equipment, she said.

"The cable is in the ground and there is Surfnet equipment taking care of the traffic," Herweijer said.

Schipper is also unconcerned about Global Crossing's financial woes.

"That part is all for Surfnet and they know what they are doing. As users, we are not worried and have confidence in Surfnet," he said.

Global Crossing filed for bankruptcy protection early this year and is now in the middle of a bidding process to sell itself off. An auction is scheduled for 31 July, said Global Crossing's Desmidt.

"We hope our financial restructuring will be resolved by 7 August, when the bankruptcy court in the US is scheduled to hear the winning bid for the new owner of the company," he said. Bids are coming in for the entire company as well as for three units that Global Crossing would like to sell separately, he added.
Read more on IT legislation and regulation