Rambus cleared of standards-setting charge
A US district court has set aside a jury verdict against Rambus, clearing the memory chip designer of allegations that it set...

Download this free guide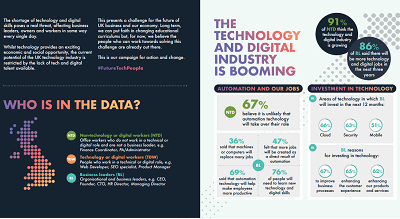 Infographic: How to future-proof UK technology
There is no doubt that the technology industry is booming right now, bringing with it exciting social and economic opportunities. However, there is a real fear that the UK industry may be stunted due to the lack of talent available. This e-guide helps to break down the future fears and expectations of dozens of business leaders and tech workers.

A US district court has set aside a jury verdict against Rambus, clearing the memory chip designer of allegations that it set standards relating to a technology used to accelerate memory chips, the company said.



The US District Court for the Eastern District of Virginia's decision to throw out the May verdict accusing Rambus of seeking patents on DDR (double data rate) SDRAM (synchronous dynamic RAM) while participating in a technical-components standards-making body, is just part of the post-trial legal wrangling that has marked Rambus' case against Germany's Infineon Technologies.

Rambus sued Infineon last year, claiming that the company infringed patent designs in manufacturing SDRAM and DDR SDRAM chips. Rambus had secured licensing deals with other chip-makers, but Infineon refused to pay royalties.

The company lost its case against Infineon and received a double blow in the form of a $3.5m (£2.5m) fine in punitive damages for fraud. At that time, US District Judge Robert E. Payne ruled that Rambus had improperly obtained patents on chips that were being developed by the JEDEC (Joint Electron Device Engineering Council) while the company was participating in the group. The fine was later reduced to $350,000.

In its defence, Rambus claimed that the JEDEC's guidelines on participation were confusing and that other members flout the rules.

As for Rambus' victory, chief executive officer Geoff Tate said that the company was "pleased" with the decision to throw out the jury's standard-setting allegation. The company still plans to appeal the patent infringement case as well as the jury verdict on Rambus' behavior at JEDEC regarding SDRAM, he added.

"We aim to conclusively prove that Infineon is violating Rambus' patent rights and that Rambus must be justly compensated by Infineon for the use of our patents," Tate said.

The court also rejected a motion by Infineon to enjoin Rambus from pursuing litigation pertaining to Infineon's DDR SDRAM products. However, the court prohibited Rambus from pursuing litigation in the US regarding Infineon's JEDEC-compliant SDRAM memory products. Rambus has suits currently pending against Infineon in Europe.
Read more on IT legislation and regulation