EMC dumps on NetApp, HP, IBM in VNX sales primer
EMC admits 3Par led the storage industry three years ago in a document that primes its sales team to counter HP, NetApp and IBM and dismisses Oracle, HDS, Fujitsu and Dell as competitors for its new unified storage range.
EMC is advising its sales force that Sun/Oracle, HDS, Fujitsu and Dell not represent a competitive threat to its new VNX range, and is instead priming its teams to combat NetApp, IBM and HP in a presentation that offers "competitor overviews and how to beat them."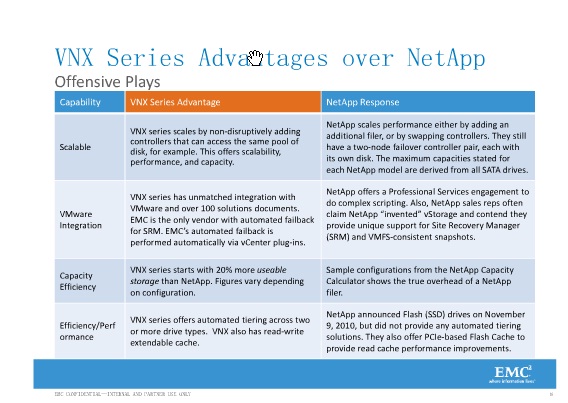 A slide from the document sighted by SearchStorage ANZ (click to see at larger size)
The document states EMC's belief that the VNX series is "20% more efficient out of the box" when compared to NetApp's FAS range. The presence of EMC's FAST tiering software, native fibre channel connectivity and deduplication functions are also said to trump its rival.
The document also asserts that "NetApp sales reps often claim NetApp 'invented' vStorage and contend they provide unique support for Site Recovery Manager (SRM) and VMFS-consistent snapshots."
NetApp's scalability is also called into question as being dependent on "adding another filer, or by swapping controllers. They still have a two-node controller pair, each with its own disk."
EMC believes it enjoys similar advantages over IBM, but adds "superior VMware" integration to its list of advantages over Big Blue's DS 8000, 5000 and 3000 series arrays. The document suggests sales people emphasise this quality along with VNX's unified management software and self-optimisation features to combat the fact that "IBM will talk about how the DS5000 is so fast you can just set it and it will handle anything you throw at it."
The document also suggests that "IBM can only respond to our suite of efficient features by bolting on additional hardware to the DS5000."
EMC seems to feel IBM's XIV has fewer weaknesses to exploit, suggesting discussion of flash optimisation as a good selling point.
HP is analysed extensively, with is 3Par range listed as having an advantage in multi-tenancy features, storage density and scalability beyond two controllers. EMC hopes it can counter those features with mentions of VNX's new Intel CPUs, while it also hopes to exploit 3Par's lack of support for CIFS, 10G Ethernet, 8G Fibre Channel or NAS.
The document also cedes that 3Par "was the most efficient storage platform a few years ago. But now everyone has thin [provisioning] and while 3Par does have auto-tiering is [sic] does not provide the other technologies." The document goes on to criticise 3Par's reliability, which it says is not proven to reach five nines, and says its technology "has a weakness with clones."
HP's EVA comes in for the document's strongest language, as it is described as "3 generations behind" as it "lacks auto-tiering, tiered pools, Compression, FAST Cache and thin provisioning." The document adds that EVA "It's backend lacks SATA or SAS forcing to use EOL'd FATA drives."
EMC feels that HP will counter VNX by using an Edison Group white paper that asserts EVA has the best total cost of ownership and wants its team to point out that the paper is now three years old.
Overall, the document places great store in EMC's new management and FAST software, plus its use of Intel CPUs, repeatedly suggesting these be used as points of competitive differentiation. "Focus on selling unified" is also repeated several times as both an offensive and defensive point.
The document does not offer competitive analysis of Dell, Fujitsu, Sun/Oracle or HDS, dismissing them all as secondary competitors. Interestingly, the document also identifies Google, Amazon Web Services, Rackspace and Microsoft as "alternatives" to VNX.