Konkan Railway's ERP upgrade
Growing business demands, intermittent changes in laws, and data duplication prompts KRCL to upgrade its ERP system.
Konkan Railway Corporation Limited (KRCL) has undertaken an ERP upgrade. The project is expected to be completed in 2012. KRCL will be spending Rs 1.5 crore toward the ERP upgrade in 2011.

Download this free guide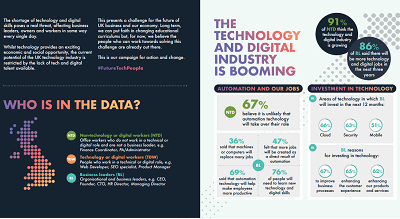 Infographic: Future-proofing UK technology
The current potential of the UK technology industry is restricted by the lack of tech and digital talent available. Read through this challenge for the future of UK business and our economy.
By submitting your personal information, you agree that TechTarget and its partners may contact you regarding relevant content, products and special offers.
You also agree that your personal information may be transferred and processed in the United States, and that you have read and agree to the Terms of Use and the Privacy Policy.
Reasons for ERP upgrade
KRCL has an eight-year-old ERP application developed using Informix 4GL, a fourth-generation
programming language. "In 2005-06, Amrita Technologies migrated the system to the Java platform. However, the basic framework remained the same, hence the growth of and changes in our business requirements made an ERP upgrade necessary," says Vijay Devnath, chief (IT) manager, KRCL.
With a jump of almost 700% in ticketing in the last 10 years, business for KRCL was going great guns. However, its ERP was unable to handle large data volumes, thus necessitating an ERP upgrade.
Intermittent changes such as those in the country's financial laws, reporting laws, and tax laws, as well as changes in working patterns, were the other reasons that prompted KRCL to go in for an ERP upgrade.
A complex ERP system
The ERP currently in use at KRCL has 18 modules which need an upgrade. These include finance, HR, payroll, traffic accounts, train running―a critical online module which must run 24x7—and ticketing.
The traffic accounts module of the ERP deals with the sharing of revenue with other railways in the case of common trains, and talks to the finance and ticketing modules. The track maintenance module issues caution warnings, and interfaces with the HR module to track and maintain 'order given' reports. The inventory module includes the stock of railway goods.
Ticketing is another complicated module. The Indian Railways has 42 types of concessions including those for children, senior citizens, cancer patients and the disabled. Besides, tickets are printed at every railway station. KRCL has also started a new RoRo (roll on roll off) service wherein trucks are carried on train wagons. This requires the issuance of different kinds of tickets for the trucks and the persons traveling with each truck. "RoRo has been developed as a sub-module under the ticketing module," says Devnath.The current ERP system also has small modules for airline travel and vehicle booking.
The dual reporting structure of KRCL further adds to the complexity. Since it's a PSU, its books are audited twice every year, once by the Comptroller & Auditor General and then by an external auditor. One set of accounts is sent to the Ministry of Railways and another to the Department of Public Enterprises.
"With the addition of so many modules, the system had expanded, thus making an ERP upgrade inevitable," explains Devnath. "The ERP upgrade is also aimed at evaluating and phasing out applications which have lost their relevance."
Yet another important objective of the ERP upgrade is data deduplication. "Currently when two departments need to work on similar kinds of data, they maintain two data sets, resulting in data duplication. During ERP upgrade, we will integrate these separate workflows so that both the departments can use a common data set simultaneously," informs Devnath.
Progress so far
As part of the ERP upgrade, KRCL has started off with the ticketing module followed by the HR module.On the HR front, since the new application is browser-based, even the employees posted in Jammu & Kashmir (J&K), Jharkhand, and the North East will be able to use the upgraded ERP for attendance, bill passing and printing pay-slips.
In J&K, KRCL is working on projects such as the Railway Building as well as construction of a 100 km stretch on the Udhampur-Srinagar-Baramullah Rail Link.
Read more on CW500 and IT leadership skills