Misuse of VDI: Citrix on how to make your desktop virtual
Citrix drops the marketing hype and explains which virtual desktop strategy works best for which type of user, along with why the term VDI should be buried when deciding how to make your desktops virtual.
In this Q&A, Patrick Irwin, product manager of EMEA at Citrix, explains how the misuse of the term virtual desktop infrastructure (VDI) is shadowing the benefits of making your desktops virtual and explains the importance of knowing the difference between desktop virtualisation and hosted desktops.

Why is it important to make clear that VDI is not the equivalent of desktop virtualisation?
Most customers choose a VDI strategy for 24/7 access to their desktop, but then realise VDI fits some cases but not all.

Patrick Irwin, product manager EMEA, Citrix,
Patrick Irwin: VDI is a term that is consistently thrown around, but is in fact incorrect. There are several different strategies involved in what is essentially application and desktop delivery. These provide several delivery options for desktop virtualisation and hosted virtual desktops, so it is important to get the message out to users that one size does not fit all. If users do not know the clear benefits of each of these methods they will assume the term VDI is their only option when there are several others that all basically mean desktop virtualisation - shared server based desktops, application virtualisation hosted from a data centre and desktop streaming. All of these will, evidently, make your desktops virtual.

However, desktop virtualisation may seem logical to some businesses, but users' desktops should not be virtualised just for the sake of it. It depends on the business, the users, and their requirements.

Download this free guide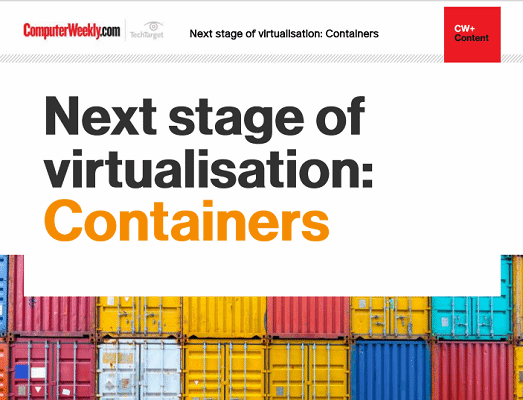 Next stage of virtualisation: Containers
Who doesn't love building blocks? Following the burst of cloud computing, containers are becoming a necessity for all organisational transformation and development. Follow us as we go through the technologies that complement and enhance their use, and outline a first-hand insight into the impact.

By submitting your personal information, you agree that TechTarget and its partners may contact you regarding relevant content, products and special offers.

You also agree that your personal information may be transferred and processed in the United States, and that you have read and agree to the Terms of Use and the Privacy Policy.

Compared to server virtualisation, a virtual desktop strategy is far more disruptive, therefore more care and attention is needed before any decisions are made.

Why should IT managers even care about turning their desktops virtual?

Patrick Irwin: The idea of a virtual desktop strategy has been picking up speed over the last 18 months or so, and proof concepts are happening. The main benefits to remember are savings and improvements on cost, management, simplicity, flexibility, and security. When these outweigh the benefits of your current strategy, you have a case to go ahead and make the desktops virtual.

So what strategy or approach is best for what type of user?

Patrick Irwin: When we talk about virtualising desktops, most think of benefits for office workers through customising desktops. A desktop that is virtual is better for those businesses that want a rich environment for their office workers. You have a virtual machine (VM) in the data centre with a lower density of servers, so it's better to manage.

For other users such as task workers or mobile, however, the a desktop that's virtual can sometimes prove useless.

Hosted desktops are better for businesses that do not need a rich environment, so for those that are task-based, e.g retail businesses or call centres that generally access a set of specific applications.

For the mobile worker, application virtualisation is the best solution to cut costs on the challenge of managing applications on remote workers laptops. XenApp,for example, acts as a single application hub that delivers hosted business applications from the data centre. In addition, productivity applications, for example Microsoft Office, can be streamed to run locally on the end user's laptop when needing to work offline in locations such as airplanes.

Desktop streaming is VDI in the data centre, but the VM is run locally. This allows re-imaging and applications to be moved out to their right place. This is done centrally before sending the applications to the computer needed.

A shared server-based desktop combined with a traditional thin client device is the most secure option for the mobile worker when delivering applications to their virtual desktop.

In conclusion, task and office workers are better off having their desktops centrally hosted in the data centre, so they can access their desktop securely from anywhere. For mobile workers, who have the added requirement of needing to work offline occasionally, virtualising applications and streaming processes are better suited.

So would a mixed strategy make sense for those with task, office and mobile workers?

Patrick Irwin: Most customers choose a VDI strategy for 24/7 access to their virtual desktop, but then realise VDI fits some business cases but not all. Some may want a mixed approach, which XenDesktop offers. A business may decide it wants a VM for each user, but a single image.

However, the ongoing management of this may be expensive. If you have 500 VMs, for instance, they still need to be managed -- something that should be taken into consideration.

Local virtual machine-based virtual desktops -- what's next from Citrix here?

Patrick Irwin: Citrix is currently looking to expand on its virtual desktop plans with a hypervisor called XenClient, which allows the user to go offline. XenClient sits on the end user's device and allows several VMs to run on it.

At the moment, VDI needs to be connected to have access to your desktop, but sometimes users want to go offline but still have access.

XenClient will also allow two separate environments with two VMs -- one for work and one for personal but on the same device. Normally, this would require a different image for each device you use it on; however, XenClient has a gold image. The hypervisor presents just one standard to all images, so updates can be done to one image and sent out to all that has had their desktops virtualised.

The idea is to decouple applications. The client hypervisor allows full isolation of corporate applications from personal applications, to increase security for those whose desktops are virtual.

Kayleigh Bateman is the Site Editor for SearchVirtualDataCentre.co.uk.
Read more on Server virtualisation platforms and management