Economic pressure driving move to server virtualisation
Server virtualisation and cloud computing are among the cost-cutting strategies that large organisations are considering, according to a survey by Coleman-Parkes Research.
The recession and the need to cut costs is driving server virtualisation, according to a report based on 200 interviews with CIOs, CTOs, IT directors and IT managers at large organisations in the U.K.

"Dynamic Infrastructures and the Future of IT" by Coleman-Parkes Research for Fujitsu Siemens Computers (FSC) reports that almost half of respondents (46%) intend to implement server virtualisation to achieve corporate and operational change within their organisations.
Virtualisation was the buzzword that everybody was talking about.

James Collister,
enterprise business managerFujitsu Siemens Computers
"Virtualisation was the buzzword that everybody was talking about, and we were trying to understand whether people saw virtualisation as being more than just VMWare and what people wanted to get from it," said James Collister, enterprise business manager at FSC. "Cost cutting is a very obvious part of it, and obviously energy efficiency to a certain extent. We wanted to understand the business reasons why people were doing virtualisation or whether they were just following the market."
One of the surprise findings of the research was that the majority of CIOs have not seen a reduction in their budgets, with 44% having as much money this year as they did in 2008, and 25% having more.
"That was one of the findings we were most surprised about," said Collister. "We expected it to see it almost off a cliff. I think people understood that virtualisation can still save cost in itself. There may be some investment needed in order to get that far; however, it would generate a cost cutting overall."
While 66% of respondents planned to meet the demand to reduce costs with simple operational cost-cutting exercises, the next most popular option, considered by 40%, was looking at alternative IT delivery scenarios such as the cloud computing model.
Dynamic Infrastructures and the Future of IT: Survey results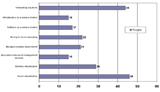 Click to enlarge. FSC/Coleman Parkes Research.

Click to enlarge. FSC/Coleman Parkes Research.
When asked for their views on how IT infrastructure could be improved to meet changing business priorities, 72% were still tweaking the internal infrastructure, 24% planned a move to a "cloud infrastructure as a service" model and 12% planned to hand management of the current infrastructure to a managed service provider.
"People prefer to have [cloud] up and running and proven first. It is too much of a jump. That first year or two it is going to require investment, so that is largely why people are looking at tweaking and getting themselves ready for it now," said Colllister.
"You have to have your house in order before you can do cloud computing. If your setup isn't consolidated you just can't go towards cloud. It is too dangerous," he said. "With virtualisation, it is important not to jump in too quickly, but by making your way slowly and looking at storage structures and server structures, consolidating and getting organised and then doing virtualisation.
"For example, we work with HBOS, where they got 30% savings overnight just by consolidating suppliers, just by tidying things up."
Varying energy-efficiency concerns
The survey identified some major differences between the public and private sector approaches to virtualisation in the U.K., with the sectors making a similar shift towards virtualisation but for different reasons. "The public sector stood out as being at a different stage in almost all the questions. 'Green' came up much higher on their agenda because they have government directives coming out towards them and [to be] green comes back to virtualisation," Collister said.
"They are further along the curve towards virtualisation in terms of needing to get their energy efficiency under control, while the private sector is further along the curve in order to get their underlying business costs under control."
Collister said the finance sector is most interested in virtualisation to meet its need for flexibility. "It needs to be able to bring up new business models and meet new business needs as quickly as possible. Particularly in the current environment they're having to change their business models at a rapid rate and making sure that IT will allow them to do that versus being the reason they can't do it."
Another recent survey found that IT departments in the U.K. are coming under higher pressure than many of their European counterparts to save on energy costs but are not being compensated in their budgets for their efforts.
Brocade Communications Systems conducted a survey with Vanson Bourne of 1,000 IT decision makers and found that a fifth of IT leaders spend more than half of all IT operating costs on power bills. According to the survey, U.K. IT departments are under more pressure to cut energy costs than some of their European neighbours. Only 38% of U.K. IT departments had yet to come under pressure to cut costs, compared with 72% in Germany, Austria and Switzerland.
Despite the pressure to cut energy costs, only 36% of U.K. IT departments believed their budgets would benefit from changes that reduced the IT department's energy costs, compared with 47% of respondents across Europe as a whole and 71% in Italy.
Tracey Caldwell is a contributor to SearchVirtualDataCentre.co.uk.
Read more on Cloud computing services