CIO interview: Greater London Authority ramps up IT while cutting costs
The GLA is in a unique position for a public sector body - taking on more responsibilities, a potentially higher budget, and employing more staff as it absorbs the work of other organisations that are likely to be closed.
The Greater London Authority (GLA) is in a unique position for a public sector body. It's looking at taking on more responsibilities, a potentially higher budget, and employing more staff as it absorbs the work of other organisations that are likely to be closed.

Download this free guide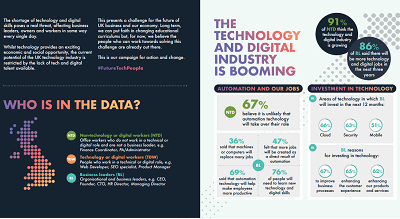 Infographic: Future-proofing UK technology
The current potential of the UK technology industry is restricted by the lack of tech and digital talent available. Read through this challenge for the future of UK business and our economy.
By submitting your personal information, you agree that TechTarget and its partners may contact you regarding relevant content, products and special offers.
You also agree that your personal information may be transferred and processed in the United States, and that you have read and agree to the Terms of Use and the Privacy Policy.
But its head of IT says the IT budget is still falling by between 10% and 15% a year, reducing by a total of £1.9m by the 2014-15 financial year.
The GLA works closely with a number of organisations, including the Metropolitan Police, the London Fire Brigade and the borough councils.
Its closest partner is Transport for London (TfL), whose extensive network is shared by the GLA to save money and share knowledge.
Shared services
Head of IT David Munn says he has two big priorities in 2010: to improve business continuity; and to come up with a new strategy for desktop computers at the GLA. In both cases, an even closer partnership with TfL is on the cards.
The GLA is planning to share the datacentre TfL is currently building in a bid to improve continuity, and it is considering another shared services project for its desktop computer strategy, which needs to be finalised by the end of this year. The organisation is already linked into TfL's network via a link at nearby London Bridge station.
"TfL is the closest partner we have. We've done a lot of work with them, including sharing core back-office applications. Finance and procurement are both provided by TfL, it provides an SAP service to us.
"We're also potentially sharing their datacentre which they're building at the moment. That will be good for business continuity. TfL has the most money and biggest infrastructure so it is the easiest organisation to work with. They're the only people I know at the moment who have got the money to build this infrastructure."
Virtualisation
The GLA is also part of a CIO forum which includes the Metropolitan Police, TfL, London Fire Brigade, the London Organising Committee of the Olympic Games and the London borough councils.
Green IT and flexible working have been high on the agenda for Munn over the past couple of years. Virtualisation has reduced the number of servers from 180 to 80 and various flexible working measures mean workers now don't have their own desks but can use any one of the 600 desktops in the building.
This required a lot of work, Munn says. "We are trying to change the culture so there's more flexibility and a real emphasis on building partnerships with organisations.
"To make that happen, we've deployed VoIP, application streaming so that an employee's personal profile follows them whichever computer they use, and Wi-Fi across the building. It's been a major piece of work."
One core part of the organisation's overall strategy is to become more environmentally friendly, and the technology staff have their work cut out to enable greener methods of working to take root.
"Both this administration and the previous one made it clear they wanted to be an exemplar organisation as far as being green goes. I think a lot of it will come, not because of the green pressures, but because of the financial pressures," Munn says.
Munn says the GLA saw budget cuts on the horizon, and acted early to bring in virtualisation and shared services. The IT department has stopped using seven contractors which it used to take on once a year to cope with higher demand, saving it £120,000 a year. But assuming the responsibilities of other organisations might make the 15% annual cuts more of a challenge to meet.
Absorbing agency work
The GLA is likely to take on the London-based work of the National Police Improvement Agency, which is to be phased out. It may also absorb the work of the London Development Agency, the Royal Parks Agency, and the Government Office for London.
Munn is optimistic about the direction the organisation is heading in, saying, "It's good to know that this is one organisation that's not going away."
What's been crucial for development of technology at the GLA, he says, is the continued interest of the chief executive and mayor of London, Boris Johnson, in using technology to deliver services and increase transparency.
"I report to one of the executive directors and there's also an IT strategy board. This is chaired by the chief executive and all the directors are part of that. There's a genuine interest at a high level. We are one of the big spenders of the organisation so it's important that they know what we're doing."
---
Facts and figures
Technology makes up 2.5% of the total budget
The overall budget of the GLA is £130m a year
Technology spend is £3.5m-£4m
The IT department is saving about £400,000 a year or just over 10% of its budget
Total saving by 2015 expected to be £1.9m.