Brocade prepares Backbone for its datacentre fabric
Brocade's Backbone switch will serve as the hub of its new datacentre fabric architecture - once it becomes available in mid-2008.
Trying to convince everyone it has the backbone to take on Cisco Systems Inc. in the data center, Brocade Communications Systems Inc. is starting to take the wraps off its new Backbone device that will run emerging Fibre Channel and Ethernet protocols.

The Data Center Backbone (DCX) is the centerpiece of the data center strategy Brocade will outline at its Brocade Conference 2007 this week in Las Vegas. But Brocade has divulged few specifics of its Backbone device yet, except to say what it isn't.

Download this free guide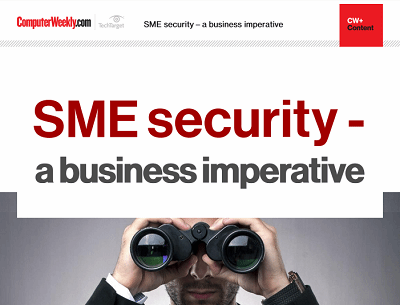 The secret to winning - SMEs and cyber security
50% of SMEs plan to spend less than £1000 on cyber defenses in the next year and only 42% of SMEs are concerned about ransomware. Anyone see a problem? Computer Weekly outlines some solutions to this growing naive trend.

By submitting your personal information, you agree that TechTarget and its partners may contact you regarding relevant content, products and special offers.

You also agree that your personal information may be transferred and processed in the United States, and that you have read and agree to the Terms of Use and the Privacy Policy.

"We don't consider it a director," Brocade chief technology officer Dan Crain said. "It's a new approach to data center networking."

The DCX is the same size as Brocade's flagship SilkWorm 48000 director with different mechanics and support for Fibre Channel, Ethernet, advanced routing, high-speed FCIP and the emerging FCoE standard. The Backbone device is also the hub that Brocade will use to consolidate servers and storage by providing connectivity, optimized server virtualization, application services and automated policies. The DCX is expected to be available around mid-2008.

The DCX is a key part of the new data center fabric architecture Brocade will use to counter the Data Center 3.0 architecture announced by rival Cisco Systems earlier this year. Data Center 3.0 is the umbrella for Cisco's set of connectivity, server and storage virtualization, automation and encryption tools.

Both vendors' data center initiatives are evolving as data centers become more complex. "Eventually, as virtualization techniques proliferate, the compute and storage layers become utility layers that need to be connected -- no big surprise there," said Enterprise Strategy Group (ESG) analyst Bob Laliberte. "Although the term fabric has long been associated with Fibre Channel, the definition is evolving to include any protocol that can be used to connect resources in the data center."

Besides traditional storage area network (SAN) connectivity, Brocade's strategy is to support applications as they move across virtual servers and infrastructure, and provide end-to-end management from servers to storage. Brocade has picked up some of the parts from acquisitions of small companies such as NuView Systems Inc., Silverback Systems Inc. and Therion Software Corp., which were considered a departure from its core SAN business. It will address other technologies, such as encryption, through more acquisitions or partnerships.

This evolution is both a challenge and opportunity for connectivity vendors such as Brocade and Cisco. "As our next generation chassis emerges, a lot of software will be far more sophisticated that before," Crain said. "All these workloads are showing up that we didn't have to run before."

But he maintains the changes, especially the proliferation of server virtualization, are a boon to networked storage. "I look at it as the largest institutional DAS-to-SAN movement of all time," Crain said.

For now, customers and potential customers will have to take Brocade's word for how its new architecture will perform. Many of the products it promises in its new architecture haven't been announced yet, let alone shown to be data center-proven. Last week Brocade announced 8-Gbit blades for the SilkWorm 48000, as well as interoperability between the SilkWorm 48000 and directors picked up in the McData Corp. acquisition earlier this year. Brocade also promises refreshed file area networking (FAN) products with more automated policy-based management.

Still, Laliberte said, it is important to have the infrastructure in place to plug future products into as they become available. "I don't really see this as a drastic change for Brocade," Laliberte said. "The have always been focused on the connectivity layer or data center fabric, and now they are expanding that focus to provide additional intelligence, automation and connectivity. As new protocols and transfer rates continue to emerge and take shape, it will be important to be able to gracefully incorporate them into existing infrastructure."
Read more on IT for small and medium-sized enterprises (SME)