SunGard brings software as a service to email
SunGard is offering email archiving and disaster recovery with web access, and Yosemite plans software as a service backup for laptops. Meanwhile, EMC and Symantec are conspicuously absent from the party.
SunGard launched a Storage as a Service (SaaS) offering for email management today, while the largest backup vendors remain in the SaaS talking stage.

SunGard is rebranding its new email archiving service from MessageOne, which also partners with Iron Mountain Inc. for outsourced email services. SunGard is offering a three-level service: the basic level provides email backups and email failover, an intermediate level adds archiving and the third and highest level offers more advanced features and longer retention periods for e-discovery and compliance archiving. The highest level also includes search and indexing through FAST, as well as an Outlook plug-in that lets end users directly access the archive.

Download this free guide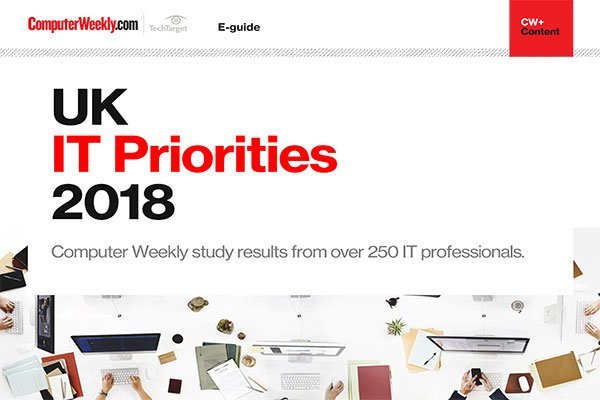 UK IT Priorities 2018 survey results
Download this e-guide to discover the results of our 2018 UK IT Priorities survey, where IT leaders shared with us what they are going to be investing in over the coming 12 months.

By submitting your personal information, you agree that TechTarget and its partners may contact you regarding relevant content, products and special offers.

You also agree that your personal information may be transferred and processed in the United States, and that you have read and agree to the Terms of Use and the Privacy Policy.

In the event of a disaster or outage, end users can access the secondary email server and archive hosted at SunGard's facilities, as well as a store of recently sent and received messages. Access is possible from any Web-connected device, including smart phones and PDAs. Microsoft's Exchange also supports a Web utility, webmail, for remote access, but it's connected to the primary Exchange server. At most companies, if Exchange is down, Webmail is down as well.

"Everyone worries about backups and replication, and data center availability, but they forget to plan for how people are going to access their data, their applications and other forms of communication in the event of a major disruption," said Stephanie Balaouras, senior analyst with Forrester Research.

SunGard's Managed E-Mail Archiving is generally available today. Pricing is based on storage capacity, as well as retention period, averaging out to around $10 per mailbox. It supports email backup and Web access for Exchange and Lotus Notes, but a recent "dramatic rewrite" of Lotus Notes means archiving support for Notes email is still a ways off, according to Don Norbeck, director of product development for SunGard availability services.

SaaS is a common theme among storage software vendors, although it's hard to pin some of them down on when they will have commercially available services. Small and medium-sized business (SMB) backup software vendor Yosemite Technologies Inc. plans to keep up with the SaaS craze by launching a hybrid SaaS version of its new FileKeeper Pro application that launched this week. Yosemite CEO George Symons said the service will be available sometime in the next six months.

"Customers also want to be able to keep a local copy of their data, so we wouldn't be managing all of their backups, but our next release of the software will extend a hybrid approach, where users will keep a local copy and send data to us remotely for an offsite, secondary backup," Symons said.

Balouras said that workstation and laptop backup, such as that offered by FileKeeper Pro, is an underserved corner of the SaaS market, as well as the data protection market in general. "Companies didn't always see the data on end-user clients as critical," she said. "They focused most of their energies on file server, application and database backup."

FileKeeper Pro is the result of Yosemite's acquisition of FileKeeper in February. File Keeper Pro differs from Yosemite's corporate edition by leaving out centralized management and reporting capabilities, such as the ability to see what files have been lost after an outage. The software will be available for $29.99 for a perpetual license for download from the Yosemite Web site. Yosemite also intends to sell it in retail stores through partner Smith Micro Software Inc., but no retail partners have been announced.

IBM's continuous data protection (CDP) for Files is FileKeeper's main competitor, coming in with a slightly higher price tag at $35 per download. IBM also landed some of the biggest retail partners for the software over a year ago, including OfficeMax, Staples and Circuit Stores.

EMC, Symantec: SaaS plans still murky

Despite announcements in the spring from EMC Corp. and Symantec Corp. that they'd also be taking the SaaS plunge this year, it remains unclear when those services will see the light of day.

"At this time, EMC is looking at online backup and recovery as a great market opportunity, and you'll see EMC get into this market in the Q4 timeframe," said EMC's director of public relations, Michael Gallant.

EMC is still stonewalling inquiries as to its rumored acquisition last week of backup and recovery SaaS startup Berkeley Data Systems, owners of the Mozy and MozyPro services.

Symantec isn't much more specific about the details of its Symantec Protection Network Saas platform. Symantec director of product management Chris Schin said the vendor's backup and recovery SaaS is in beta tests right now, and general availability is expected "in the next couple of months." Like EMC, Symantec isn't willing to be any more specific on timing, or what the service will eventually look like.

According to Balaouras, these companies are probably finding that converting their software into SaaS is easier said than done. "SaaS offerings have to support multitenancy and have features built in for the vendor, such as billing," Balaouras said. "You can't just take an existing application and turn into a SaaS offering easily."
Read more on IT for small and medium-sized enterprises (SME)