Storage virtualisation vs server virtualisation
Users at Storage Decisions discuss options for virtualizing storage to reap benefits in savings and management, but not all the avenues are fully open yet.
Unlike VMware-dominated server virtualization, storage virtualization poses more options and demands more decisions from administrators, and storage administrators spent a lot of time at Storage Decisions this week discussing the pros and cons of those options.

One thing nearly everyone agrees with: Storage virtualization can benefit practically everybody with networked storage. It's how to get there that brings difference of opinions.

Download this free guide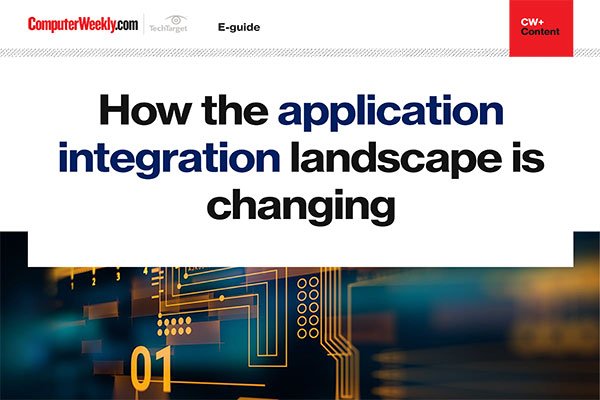 8 ways in which the application integration lanscape is evolving
We take a look at how technologies like Distributed Computing and the Common Object Model have been refined into web services, service-oriented architecture and composable applications and microservices.

By submitting your personal information, you agree that TechTarget and its partners may contact you regarding relevant content, products and special offers.

You also agree that your personal information may be transferred and processed in the United States, and that you have read and agree to the Terms of Use and the Privacy Policy.

As laid out by analyst Mark Staimer of Dragon Slayer Consulting at a Storage Decisions session, storage virtualization methods include unified SAN-NAS systems, file-based NAS virtualization and block-based SAN virtualization. Block-based virtualization received the most attention from users at the show, and that brings another choice -- should the virtualization take place in a switch, appliance or the storage array.

Matthew Yotko, director of technology infrastructure at the Barry Diller-owned conglomerate IAC in New York, uses 3PAR's thin provisioning to virtualize storage in his arrays and VMware on his servers. Yotko rebuilt IAC's infrastructure when he was hired there in 2005, and he estimated he saved "a couple million dollars" by going with a virtualized platform. IAC has dual active-active data centers in New York and Los Angeles and does asynchronous replication between 3PAR InServ storage servers in each location.

"Our SAN is so modular now, if I need more infrastructure, I simply add more infrastructure," he said. "If I need more disk, I go and buy more disk. It stripes in about a day, and I can start using the new storage immediately."

Yotko said thin provisioning let IAC buy 50 percent less disk up front. It also improves application performance. "Each application uses all the spindles," he said. "It goes where you need it when you need it."

Paul Ferraro, storage manage of San Diego-based, telecom chip vendor Qualcomm is also using 3PAR's thin provisioning with VMware but hasn't jumped in with both feet. He uses 3PAR to virtualize 100 TB of the 3 PB in his shop. "It works well, although we don't run our whole business on it," Ferraro said. "There are a lot of players out there, and a lot of ways to do virtualization. We want to get out of the business of managing every little spindle. You have to get past that, and this helps."

Marty LeFebvre, who manages Nielsen Media Research's data centers, uses Hitachi Data Systems array-based virtualization in its Tagmastore SAN to virtualize part of the 2 PB he manages. He says HDS does a good job of heterogenous virtualization, which is important in a shop using many vendors' storage. "You name it, we're probably running it," LeFebvre says. "Contrary to what other three-letter vendors tell you, their stuff runs just fine behind [Tagmastore]."

EMC's switch-based Invista virtualization product remains the wild card in storage virtualization. Invista didn't exactly wow early users after it was launched in 2005. EMC gave a sneak peak at Invista 2.0 at EMC World last summer claiming better scalability and performance, but has not officially announced the upgrade or said when it will be available. One industry source said Invista 2.0 will be primarily a tool to migrate data across arrays.

Jackson Shea, technical lead for storage administration at the Portland, Ore.-based Regence Group consortium of heath care firms, is using IBM's SAN Volume Controller (SVC) appliance to virtualize 500 TB of data on EMC and IBM storage arrays.

"I'm still waiting for it in the switch because that's where it makes more sense," Shea said. But he grew tired of waiting for Invista and went with SVC.

"We wanted to begin reaping the benefits," he said. "We started slow, but ramped up quickly. It gives us the flexibility to manage 500 TB. The more servers we put behind [SVC], the better we're able to manage our environment."
Read more on Integration software and middleware