Google to surrender intercepted WiFi data
Google has agreed to surrender to European authorities the private Wi-Fi data that was gathered by its fleet of vehicles used to record images for its controversial Street View service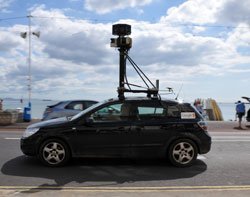 Google has agreed to surrender to European authorities the private Wi-Fi data that was gathered by its fleet of vehicles used to record images for its controversial Street View service.
The data will be handed over to the German, French and Spanish data protection authorities within the next two days, according to the Financial Times.
Germany is considering a criminal investigation after Hamburg data protection authority exposed Google's practices when it called for an audit of the Wi-Fi data recorded by Google's Street View cars.
Google at first said the data, which was gathered by mistake due to the inclusion of experimental code in the software used by its Steet View vehicles, would be destroyed.
The firm later said it would discontinue WiFi monitoring, but the information already gathered would be retained for use in Google's location-based services.
In response to a German deadline on 26 May, Google provided written answers to questions, but failed to hand over a hard drive that contained the data.
Reports said Google was uncertain that it was permitted to hand over the drive, because doing so might breach German telecommunications law.
As a storm of protest has grown across Europe about the data-gathering, Google now appears willing to compromise, with chief executive Eric Schmidt saying he wants to be transparent about blunders.
Honesty about your mistakes is the best defence for it not happening again, he said.
Google has promised to publish the results of an external audit into the practice of collecting information from unsecured Wi-Fi networks.
The firm will also publish the results of an internal review of all Google's privacy practices that is taking place alongside an investigation of the software engineer responsible for the Wi-Fi data sniffing code that Google now says was a "clear violation" of company rules.
Read more on IT legislation and regulation