Spectrum bonanza unlikely as government sits on auction plans
The moderate prices achieved in the German auction of next-generation mobile spectrum suggest the UK government will get nothing like the £24.6bn bonanza...
The moderate prices achieved in the German auction of next-generation mobile spectrum suggest the UK government will get nothing like the £24.6bn bonanza it achieved for 3G frequencies.

Download this free guide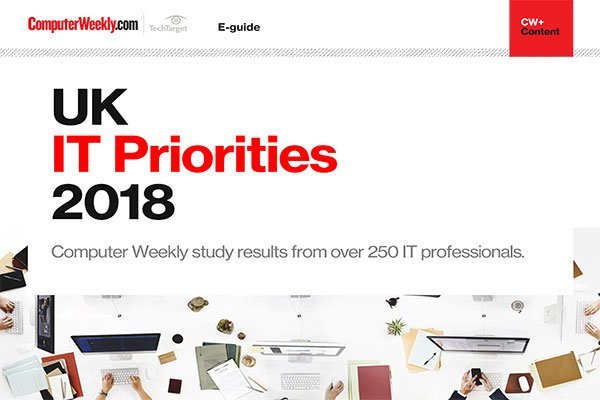 UK IT Priorities 2018 survey results
Download this e-guide to discover the results of our 2018 UK IT Priorities survey, where IT leaders shared with us what they are going to be investing in over the coming 12 months.
The German government received €4.38bn (£3.73bn) for its 800MHz frequencies, or an average of €0.73 per MHz per head of population. This was less than a quarter of the $4.17 (€3.41) per MHz per head that the US government managed to get for its auction in the comparable 700MHz band, and less than half what some expected the auction to achieve.
With Deutsche Telekom, O2, Vodafone and T-Mobile all getting what they wanted, no new players joined the market. Tough targets to cover rural areas may have put off some bidders, said Juniper Research analyst Anthony Cox.
Cox said the market is now altogether more sensible than it was when the government last auctioned radio spectrum. "Then they were buying the right to offer 3G, whereas now I suspect the spectrum will go to existing players," he said.
Frequencies in the 800MHz spectrum are desirable because they provide greater coverage of rural areas and inside buildings. These are both useful attributes in the light of the government's promise to deliver universal broadband access to the UK population.
However, negotiations to reallocate frequencies in the UK were described as "bruising". The situation was complicated by the merger of their UK operations by Orange and T-Mobile. O2 said in March it might ask the courts to review the complicated settlement achieved by independent spectrum broker Kip Meek.
This settlement went a long way to predetermining the parcels of spectrum that would be on auction, and possibly the prices.
The statutory instrument that would have instructed communications regulator Ofcom to kick off the auction did not make it through the wash-up at the end of the last parliament. It is currently in Ed Vaizey's inbox.
A spokesman for the Department for Business, Innovation & Skills, which has joint responsibility with the Department for Culture, Media & Sport for broadband issues, said the new minister would revisit the instrument in due course. She said it was an important matter, and that it would be done as soon as possible. It must pass both houses of parliament before Ofcom can start designing the auction.
If the UK follows the German example there will be only four bidders, three of which bid in Germany. It would become five if BT decides it needs to get back into the mobile market.
If BT bids, it is likely to want frequencies that will allow it to reach people in underpopulated areas cheaply, to fulfil universal broadband service obligations imposed by the Digital Economy Act. These areas are commercially unattractive to the mobile network operators, so BT may get the spectrum cheaply.
Against this is consumer demand for more bandwidth. Graham Cobb, marketing director of telecommunications consultancy Telcordia, said mobile operators are under pressure to get as much spectrum as possible because more consumers want to watch and send more video from their handsets. This could help push up prices.
The mobile operators also face big bills to install higher-capacity networks. In the UK, this means HSDPA and LTE networks, while in India it means 3G GSM. They also depend on the local fixed cable network operators, such as BT, to provide high-capacity backhaul networks. If backhaul, which connects mobile radio towers to the national core fixed line networks, is slow, there is no point in investing in high capacity wireless.
The bottom line? Mobile networking is no longer a licence to print money, either for operators or for governments. As Cobb's colleague Tom Forsythe said, operators are likely to bid with one eye firmly on their share price.
Read more on Networking hardware