Financial services firms fail to invest in recovery
Most financial services organisations are not planning to ramp up their IT systems in preparation for a business upturn.
Most financial services organisations are not planning to ramp up their IT systems in preparation for a business upturn.
A survey of 100 financial services companies shows 60% do not anticipate investing more in their IT as the economy recovers.
And 45% say they believe an upturn will not create any additional pressure for their IT departments.
The findings have raised concerns that businesses will be caught on the hop when the economy does pick up, says Alwyn Welch, CEO at Parity, which conducted the survey.

Download this free guide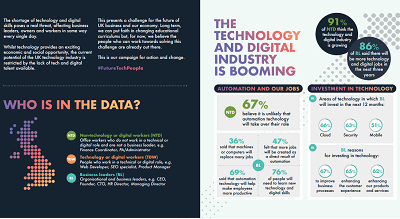 Infographic: How to future-proof UK technology
There is no doubt that the technology industry is booming right now, bringing with it exciting social and economic opportunities. However, there is a real fear that the UK industry may be stunted due to the lack of talent available. This e-guide helps to break down the future fears and expectations of dozens of business leaders and tech workers.
"Most people expect recovery to start in financial services. The IT teams are suddenly going to be under huge pressure to ramp up delivery," he said.
"Many businesses have been good at cutting back and stopping projects at the start of the recession. They have to be as good and as ready to react to the upturn," he said.
The research shows businesses have cut back their IT spending dramatically. Nearly 20% have more than ten projects waiting for sign-off.
But 71% said budget constraints are preventing them getting ready for the upturn. Only 14% have approached their HR departments about future staffing needs.
Parity predicts that financial services companies will ramp up IT spending in the next six months by investing in IT systems to improve efficiency or to meet new financial regulations.
The 40% of companies planning for the upturn will be in a better competitive position, it says.
But concerns that the recession could turn into a "double dip" mean they are likely to recruit IT contractors rather than hire permanent staff.
"I think there will be a lot of architect and project management type skills in demand. You will need people to design and manage project, and to interact between IT guys and users," he says.
Technical skills, which allow organisations to build projects rapidly, such as include .Net, Oracle, and Adobe, are likely to be in demand, said Welch.
But it is too early to talk about salaries going up.
"We won't see salaries going up until people who have stayed in employment through the recession being poached by rivals," he said.
Main findings of the survey
86% of financial companies haven't found skilled IT workers for incoming projects
59% of financial organisations have not yet started planning for the upturn
Only 14% have briefed their HR teams or agencies about their IT staffing needs
45% of IT directors in financial organisations do not think the upturn will put pressure on their departments
71% claim that budget constraints are stopping them get ready for the upturn
19% of respondents have more than 10 IT projects waiting to be signed off
Read more on Managing IT and business issues