US to recruit thousands of young cyber warriors
The US plans to recruit 10,000 youths as cyber warriors through three national competitions announced in Washington today (27 July 2009).
The US plans to recruit 10,000 youths as cyber warriors through three national competitions announced in Washington today (27 July 2009).
The US Cyber Challenge, backed by a consortium of US government and private organisations, is a skills development programme aimed at boosting the numbers of future cyber defenders.

Download this free guide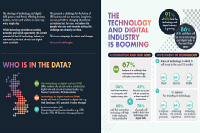 Infographic: How to future-proof UK technology
There is no doubt that the technology industry is booming right now, bringing with it exciting social and economic opportunities. However, there is a real fear that the UK industry may be stunted due to the lack of talent available. This e-guide helps to break down the future fears and expectations of dozens of business leaders and tech workers.
The US is facing a severe shortage of computer defence specialists as co-ordinated cyberattacks escalate, according to a recently published study.
"A radical shortage of skilled cyber guardians is making the US unable to adequately defend our systems," said Alan Paller, director of research at the SANS Institute.
The US Cyber Challenge aims to identify youths with the interest and technical skills to become top guns in cyber security.
Top performers in the challenge's three competitions will be invited to attend regional cyber camps to develop their skills further and take part in additional competitions.
Those who rise to the top in the regional programmes will be given the opportunity to compete for scholarships to study advanced cyber security at the SANS Institute and other educational institutions.
The best students will be introduced to key federal agencies and corporations where the most advanced cyber security work is being done.
Tony Dyhouse, director of the UK's Cyber Security Knowledge Transfer Network, said the US Cyber Challenge is a good initiative, but not as straightforward as it sounds.
"The organisers need to be clear about what they are trying to achieve. Participants may have great technical abilities in the cyber security domain, but lack teamwork and leadership skills," he said.
According to Dyhouse, the challenge has to consider how these skills are to be brought together and developed to provide an effective result.
"Cyber Challenge organisers also need to make a tough decision about whether they engage with former criminal hackers to understand the mindset of the e-criminal," he said.
Dyhouse believes a similar cyber challenge could work in the UK.
"We would like to see it taken forward providing there is a clear end goal. Potentially, this type of initiative could be managed by the UK Cabinet Office, as part of its Cyber Security Strategy," he said.
The CyberPatriot high school competition will be conducted by the Air Force Association. The DC3 Digital Forensics Challenge will be conducted by the US Department of Defense Cyber Crime Center, and the NetWars vulnerability identification competition conducted by the SANS Institute.
Read more on IT governance