A Budget to free up the Business Broadband market - the superhighway to economic recovery.
The Digital Communications Infrastructure Structure Strategy announced in parallel with the Budget shows that DCMS and Treasury have responded to the inputs to the consultation last year and raised their sights. The new targets are 100 mbs to all but the most remote households but, more importantly, fibre to the premises (a gigabit plus) for business. The strategy recognises that different markets have different priorities between speed, capacity, ubiquity, symmetry, latency, reliability and resilience: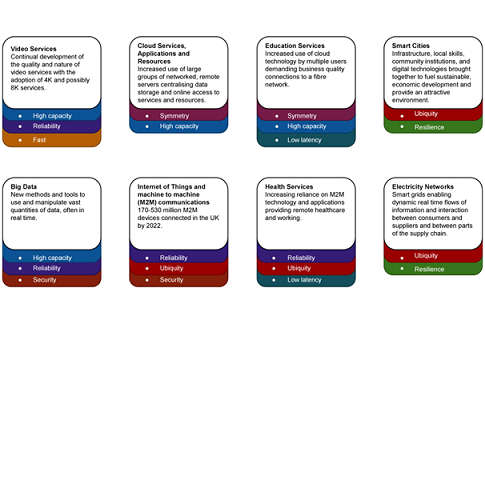 It is most unlikely that one architecture will fit all future needs, any more than it does at present. Even the current BT network remains a hotpotch of heterogeneous architectures and technologies – built on the legacy from when the Labour government's switch to local loop unbundling destroyed the business case behind Ben Verwaayen's dash for growth and left BT saddled with debt commitments after its exchanges had been mortgaged and its share price had collapsed.
The recognition of the pace of change is most welcome. The strategy, quotes actual traffic increases of 40 – 50% p.a. annum over recent years with households connected by "real" fibre to the premises generating nearly 60% more traffic. I recently learned that the rate of traffic growth is accelerating and bandwidth improves. Traffic over Sky's broadband network has more than doubled over the past year – and that over the mobile networks may be growing even faster. In consequence BT's back haul networks are creaking at seams. Most weeks see several exchanges going down, sometimes for hours on end. In consequence financial services regulators, for example, now insist that critical services have standby facilities which do not depend on the BT network.
Hence the reason that Virgin, Sky, Vodafone and others, who had relied on BT for much of their backhaul, as well as for unbundled local loops, have been looking at major investment programmes of their own and partnerships with the local network suppliers (City Fibre, Gigaclear, UK Broadband, Hyperoptic, ITS etc.).
The announcement on the means of encouraging investment and enabling change to a world of competing but inter-operable fixed and mobile networks is also important: using the £40 billion UK Government Guarantees Scheme to underpin investment, with the £3 billion Virgin plans "pre-qualified" to show that it is serious about opening markets to genuine competition. See section 3.2 of the Strategy for details, although it does not say how others should apply, merely that they will be welcome to do so.
The strategy also contains the first public reference I have seen to the consultation on reform of the Electronic Communications Code Note the deadline for inputs of 30th April. The importance of the Code as an obstacle can, however, be over-estimated. The new code will not address the need for a critical mass of landlords and network operators to agree a new generation of framework contracts for multi-tenanted properties (office blocks, business parks, social housing complexes etc.) where the value of being able to offer tenants a choice of world class communications access and smart building services is greater than any revenue from wayleave and access charges. More-over those wanting rapid access to fix faults also need to accept liability for any damage or disruption caused by their staff or subcontractors to services on which other tenants rely.
The good news is that a recent meeting hosted by Westminster City Council illustrated the practicality of doing so. I am therefore hopeful that the Digital Policy Alliance will succeed in providing a neutral umbrella to build on success by bringing together those who wish to make rapid progress without waiting for GODOT (the General Obfuscation, Delay or Time- wasting that occurs with attempts to get agreement on a mandatory policy using statutory powers).
The group will probably not be looking at the lowest common denominator agreements that tend to arise from national standard agreements but at "future proof guidelines" that can be used by those planning new developments or refurbishments designed to last for decades and also for incremental retrofitting to existing properties as tenants change.
The Treasury Review of business rates to redress the balance between the on-line world and the off-line world gives a long-overdue opportunity to reform the current valuation regime so that it no longer deters investment in new fibre networks and helps high street retailers come on-line [link]. The return of increases in business rates to local authorities (beginning with a pilot covering Greater Manchester) will give an added incentive to local authorities to use broadband improvements to help deliver more for less – including by pooling their communications budgets (including for CCTV and traffic management as well as fixed and mobile staff and business communications) with those of local landlord and businesses, perhaps in partnership with their local LEPs (as suggested in the Strategy Paper) and foster local economic growth.
In parallel Ofcom is to do its first strategic review of the Telecoms market since that which concluded in 2005 enshrining its then priorities. I have previously welcomed the new focus of Ofcom on business broadband in its business plan for this year but some of the inputs for the DCMS-Treasury review show just how dated the focus of Ofcom had become. I do hope that those wanting to see Ofcom reinvigorated for the 21st century will use the opportunity.
Finally a quick comment on Spectrum wars. The Ofcom threat to claw back unused satellite
spectrum should be seen in the light of the Budget comments on raising the Universal Obligation from 2 to 5 mbs and using satellite to reach the final 2 – 5% of the population. Those fighting for fixed wireless or fibre to the premises for remote areas have been complaining not just of latency but of lack of capacity and contention. I am looking forward to seeing inputs on the quality of service that is available over modern satellite services. I undertand that 3% of Avanti's global capacity is used for on-line gaming: i.e. 50% more than the capacity used to service UK customers. I also undestand that a numer of mobile radio networks trunk their trffic over satellite. I therefore suspect misinformation which may annoy satellite providers but not sufficiently for them to spend time countering when they can sell all the capacity they currently have available to other parts of the world.
In short, I do urge you to read the strategy and then think how to work together locally to help build the future without waiting for GODOT nationally.
P.S. I have been asked to try to put together a group to provide guidance for parliamentary and council candidates on how they could/should support local community groups (from Parish Councils to City Corporations) to use the new opportunities to work with local businesses, property owners and potential suppliers and leapfrog the competition (whether it be in the county or on the next continent). I look forward to hearing from those interested in helping.