Olivia Garfield becomes BT Openreach CEO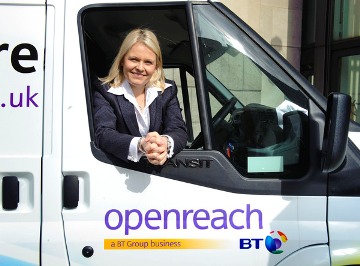 Olivia Garfield has been promoted to chief executive of Openreach, BT's local access network business.
She's currently the BT group director of strategy and regulatory affairs but will be taking over from Steve Robertson from 1st April 2011.
Ian Livingston, BT chief executive, says 'Liv' has gained recognition for her leadership skills.
Part of Garfield's new role will include the deployment of super-fast fibre broadband in two thirds of UK homes and businesses by the end of 2015.
Speaking about her appointment, she said:
"Competition in UK telecommunications has led to low prices and innovative new services, and my aim is to ensure that continues. Fibre broadband is the future and I am determined to make it available to as many homes and businesses as possible via a wide range of providers.
Olivia was previously listed in Management Today's '35 women aged under 35′ who are 'judged to have the potential to reach the top of their chosen careers'.
Speaking to Yorkshire Post today, Olivia talks about juggling being a mum of two with her career.
She says, "I think with the right support network you can have a happy family and a rewarding career but it is a constant juggling act."
Her advice is, "Be careful what you wish for in your career. Don't focus on the destination as being the prize. Instead, make sure you enjoy every second of the journey."
Sean Williams, who heads strategy for BT Retail, is to replace Garfield as group strategy director.