Not enough women in tech?? Try angel investing
This is a guest blog from Zoe Cunningham, managing director of Softwire, technology expert and founder of Tech Talkfest.
Like everyone in tech – I have a fascination with startups. In 2012 I started Tech Talkfest to run tech startup events (you can read about our Women in Tech event here. I found that many of my attendees hadn't started one yet – they worked in tech, had a great idea and were looking for some support to help them to start it.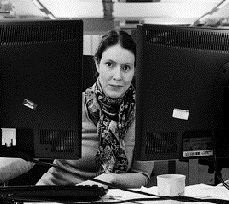 I'm interested in startups from both sides – as an entrepreneur and as an investor. Yet if it's difficult to take the plunge as an entrepreneur, having to give up the security of your job and the luxury of having enough to eat, it's even more challenging to decide to invest large amounts of money into someone else's business, where you have very little control.
So my dream of becoming the next Deborah Meaden remained just that – a dream – until a chance meeting with Sarah Turner. Sarah set up Angel Academe in 2012 to be an angel investing group, with a difference. It's not easy to tie down the statistics on angel investing as a lot of it happens informally but the best statistics that we have (from the UK Business Angels Association) show that just 5% of angel investors are female.
Sarah was determined to redress this shocking statistic. "What's clear to me is that there's opportunity and demand: both for an angel group focussed on tech but designed to appeal to women (women control nearly 50% of the net wealth in this country!), and from founders (both men and women) who would like to pitch to us."
As a novice investor, I am really honoured to be part of this group, which includes women from very senior roles including operational, marketing, tech and corporate finance roles as well as successful entrepreneurs – who better to trust with your money? It was also reassuring to see that my instincts on what was a good deal or not matched the rest of the group. Six months on, I have just signed my first deal to invest in social music platform Buddy Bounce.
Set up by female entrepreneurs Emma Obanye and Giulia Piu, responsible for tech and product respectively, Buddy Bounce is a platform for 16-24 year olds to earn points by sharing information about and digital assets from their favourite artist. For example I might get recognised for following One Direction on twitter, and gain even more points if I tweet their new video. This pool of dedicated fans provides an easily monetisable service to record label and artists. As we start to tire of being advertised to, this kind of marketing is almost priceless.
And perhaps there are more far reaching benefits to supporting women founders. Sarah says "If you want to look at the bigger picture, I also think entrepreneurship is the best opportunity we have for advancing women – the number of women at the top of large corporations has remained the same for many years. Far better to support new businesses who can create their own culture."