Let's agree to disagree: Nikki Walker from Cisco Europe guest blogs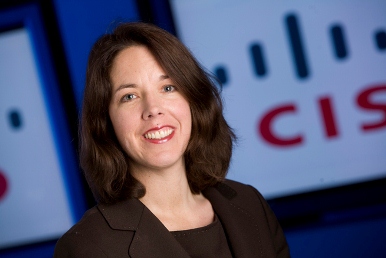 Nikki Walker, diversity & sustainability director at Cisco Europe guest blogs for WITsend. Nikki joined Cisco in 2009 and won the inspiration of the year award at the 2011 CWT everywoman in technology awards
I've been watching a TV series called You Can't Take it With You in which business guru Sir Gerry Robinson helps bring families together to write their wills. Given the differing values, priorities, perspectives and emotional sensitivity of those involved, it's unsurprising that – if not visible, then just below the surface – there's always a degree of tension or even conflict amongst family members.
What many of the individuals do – like so many of us in the workplace – is try to avoid that tension or conflict altogether, or simply ignore it. If we can't say something nice, our mothers taught us, don't say anything at all. Of course, Sir Gerry's task is to help the families tackle these difficult challenges and decisions. Inevitably, tension or conflict becomes unavoidable, and with it the potential for it to get disagreeable or even destructive.
So what is surprising is just how often he manages to pull off a minor miracle and turn conflict into collaboration. From favouritism, to boys versus girls, to judgments about people's lifestyles to plain old-fashioned prejudice, Sir Gerry has helped negotiate a way through them all.
The typical strategy says Sir Gerry is to avoid conflict and close down dialogue and discussion ("I'm not prepared to talk about it"). Whilst this approach appears to work for many, stubbornness and inflexibility set in. And when tensions bubble to the surface, people already convinced of the rightness of their view become increasingly polarised around conflicting positions and values. The result he says is 'destructive conflict', which is personal, vindictive, and a source of pain.
Other strategies include reducing tensions and stresses by one party simply accommodating the wishes of the other – a one-sided 'win-lose' situation. But this simply glosses over the issue – something Sir Gerry won't accept. Another widely accepted means of resolving conflict is to accept that there needs to be give and take on all sides, involving a series of 'concessions'. A 'win-some, lose-some' strategy.
But Sir Gerry believes that when managed properly, conflict can have many positive aspects and even bring about innovative solutions. His 'constructive conflict' approach works because those involved have a positive learning experience from the event and see that theirs is not a case of 'right against wrong' so much as 'right against right'. By creating the conditions for each party to both speak and listen he ensures they understand both the what and the why of their differences. By opening up dialogue and sharing and assessing the reasons for the conflict, issues can be clarified which results in more possible alternatives and opportunities to solving the problem. A clear 'win-win' strategy.
So how do we manage conflict so that it's a positive not a negative force? I think it starts with the simple notion that we can disagree without being disagreeable. And that we have to make it "safe" to be different, to take opposite points of view and to disagree. When people know they can stand up and say what they believe without being castigated, guess what? They will!
At Cisco we have a 'More Together' strategy which was developed to engage the majority within the organisation to be inclusive and drive lasting cultural change.
What does your organisation do to encourage staff to open their mind?