GirlsGoIT is leading young women in acquiring digital and IT skills in Moldova
This contributed article from GirlsGoIT explains how the organisation is equipping girls in Moldova with IT and digital skills.
GirlsGoIT was established to boost Moldova's entrepreneurship and innovation capacity by investing in and empowering young women by teaching them digital technologies and IT skills.
The program worked in partnership with UN Women, eGovernment Center, Novateca and TEKEDU, to use technology and education to further career opportunities for Moldovan girls in the digital economy, empowering them with digital skills to embrace the opportunities of the web economy and gain greater access to the global market and entrepreneurship.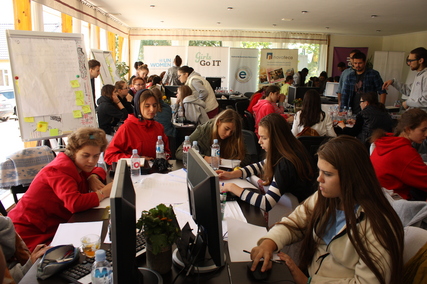 In August 2015, GirlsGoIT organised a summer camp for 38 girls from 15 territorial districts in Moldova, including girls from Roma ethnic group and locomotive disabled girls between the ages of 16 to 20, to learn HTML+CSS, Bootstrap, Python and Flask.
As a result, 38 girls built six web-based social projects for their communities. In addition, one of the leading IT companies, Endava, supported in setting up the IT infrastructure of the camp, and global tech giant Google also contributed resources for the camp organisations.
Diana Marusic, one of the summer camp participants, said: "I am pleased that in addition to technical operations I learned about project management and acquired entrepreneurial and leadership skills. I am excited about the idea of creating a GirlsGoIT local chapter that could gather both girls and boys passionate about IT".
The project aims to change perceptions and bridge the gender gap for girls and women in IT. As Pavel Moraru, agenda manager of the program, put it: "The fundamental idea was to destroy the paradigm of IT being difficult and show that it is just complex."
"Having a project based approach fosters critical thinking while learning coding and programming skills rather than focusing purely on computer science. This approach also stimulates their entrepreneurial skills, team building and communication skills." said Abayomi Ogundipe, GirlsGoIT program manager.
As a follow-up of the summer camp, a conference was organised in October 2015 to establish local chapter clubs of GirlsGoIT in cities and communities to attract more girls into the program so that they can develop their confidence and drive local and community tech initiatives through mentorship and coaching support from role models and young professionals.
The outcome of the conference, which was made possible through the support of the Department of State and the Embassy of the United States in Moldova, led to the creation of four local clubs in Calarasi, Chisinau, Salcuta and Ungheni.
One of the key components of the program is to drive policies and decision makers from Government institutions, international organisations, leading IT companies in Moldova and civil society organisations to commit, cultivate and enhance girls' digital skills, entrepreneurship mindset and startup potential.
In doing this, a manifesto platform was created detailing key actions and how people can support the program by signing the manifesto through their social media.
GirlsGoIT has planned to implement the second edition of the camp in 2016 with additional tracks on Mobile app development.