FDM everywoman in Technology Awards 2013 are open for entries!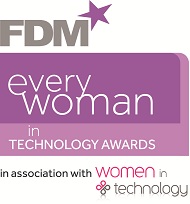 The 2013 FDM everywoman in Technology Awards are now open for entries! Designed to recognise the achievements of women working within the sector, the awards will be presented at a glittering ceremony at The Savoy on 19 March 2013.
The awards, hosted by everywoman and in association with womenintechnology.co.uk are sponsored by FDM Group for the first time this year.
Entry to the FDM everywoman in Technology Awards is free and the categories for 2013 include:
· Rising Star of the Year – awarded to a woman under 26 who is excelling in her technology career and is the one to watch.
· Team Leader of the Year in an SME (with under 500 employees) – awarded to a woman whose team leadership has greatly contributed to the organisation's success.
· Leader of the Year in a corporate organisation (with over 500 employees) – sponsored by Cisco – awarded to a women operating in a senior technology position making a contribution to the strategic direction of the business.
· Innovator of the Year – sponsored by IET – The Institution of Engineering and Technology – awarded to a woman designing, developing, researching or implementing technology in an unconventional and innovative way.
· Entrepreneur of the Year – awarded to an owner/operator of a technology business whose vision and talent will inspire others.
· Inspiration of the Year – awarded to an individual (male or female) for their active commitment to encouraging, advancing or championing the progress of women working in technology.
· Woman of the Year – sponsored by FDM Group – awarded to an exceptional woman whose vision, innovation and success makes her an outstanding role model for future generations.
Females currently only make up 19% of IT managers and only 14% of IT strategy and planning professionals.
Despite these figures the GCSE results, released in August, revealed that more girls than ever are starting to choose ICT and science based subjects.
Maggie Berry, managing director of womenintechnology.co.uk expanded on women currently making up less than 20 per cent of the UK's IT workforce: "We want to actively champion the women who are already doing great work in this sector and who, through these awards, will become inspirational role models for a future generation of female technologists."
Maxine Benson MBE, co-founder of everywoman explained: "These awards celebrate the extraordinary talent in the sector and uncover the women who are excelling. We want to get the message out that IT offers diverse and creative opportunities, particularly to a new group of tech-savvy women that have grown up with consumer technology as part of their every-day lives.
"What's more, those companies that nurture and develop their female talent are most likely to achieve success."
Winner of this year's awards 'Leader of the Year in a Corporate Organisation' Sheila Flavell, chief operating officer and founder director of FDM Group said: "The FDM everywoman in Technology Awards are a fantastic platform to showcase and celebrate the efforts and successes of so many high-calibre women in such a male-dominated industry.
"We are delighted to be sponsoring the 2013 Awards and support everywoman in their determination to raise the profile of women in technology."
Entries are open today and run until 19 November 2012. Full details are online at www.everywoman.com/techawards.