FDM Group hosts successful 'Women in IT Advantage Session'
Recently IT service provider the FDM Group hosted a 'Women in IT Advantage Session' aimed at females considering a career in IT.
Held in Manchester the event was led by FDM's chief operating officer Sheila Flavell who opened the session by saying: "It's no secret that this is an extremely male dominated industry, with women only making up 18 percent of the workforce in this sector."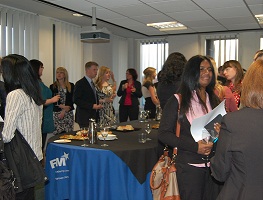 Attendees included students, graduates and career advisors, who watched presentations from representatives of Salford University, RECLAIM and Manchester Girl Geeks. Topics such as the importance of networking, mentoring and being persistent and positive, where covered.
Flavell commented: "I am delighted that so many women have taken an active approach towards pursuing an IT career by coming along to our networking event."
She said the speakers are a real inspiration in their own right: "I can honestly say I enjoyed the presentations enormously."
The FDM Group held its first 'Women in IT Advantage Session' in August last year and the company has said it plans to continue with more as part of its ongoing "Women in IT" campaign.