FDM Everywoman Awards 2014 open for entries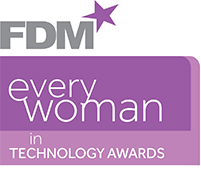 The FDM everywoman in Technology Awards 2014, in association with Intellect, are now open for entries.
Launched in 2011 the awards were launched to celebrate females spearheading technology in business, ranging from the founders of start ups, leaders within big corporates, or young rising stars.
The awards aim to uncover role models within the tech industry, bringing them to the forefront for their achievements and in in turn inspiring others to consider a career in IT.
Maxine Benson, co-founder of everywoman, said: "Over the past three years we have uncovered dozens of women who are shining in IT and enjoying challenging, fulfilling and financially rewarding careers and we look forward to unearthing more inspirational and incredibly talented women this year and celebrating their achievements within technology."
Sheila Flavell, chief operating officer and founder director of FDM Group, said: ""We are once again delighted to be sponsoring the FDM everywoman in Technology Awards. The Awards are a fantastic platform to raise the profile of women in technology by showcasing and celebrating the efforts and successes of the many high-calibre women in the industry."
Julian David, director general of Intellect, commented: "We are delighted to support the 2014 FDM everywoman in Technology Awards. One of the biggest challenges for the UK tech sector is attracting appropriately skilled employees. We need a greater representation of the working population to join UK tech companies and help support the continued growth of the sector.
"In particular, we need to work hard to attract smart, skilled women who are not currently attracted to the sector and communicate the career opportunities in tech that are open to all. Tech UK must remain focused on attracting great women to the sector, retaining them and helping them to flourish and succeed."
The FDM everywoman in Technology Awards are free to enter and the 2014 categories include:
Entrepreneur of the Year –

sponsored by Alcatel-Lucent

Innovator of the Year –

sponsored by Computacenter

Inspiration of the Year –

sponsored by VMware

Leader of the Year in a corporate organisation-

sponsored by BP

Rising Star of the Year

Start up Founder of the Year

Team Leader of the Year
For those who have attended the awards in past years oyu will know it is usually held in the Savoy's Ballroom, however everywoman have outgrown the venue. The 2014 awards will take place at the Sheraton Park Lane on 19 March 2014.
Entries are open until 18 November 2013 and full details are online at: www.everywoman.com/techawards.
See who won at the FDM everywoman awards last year.