2013 FDM everywoman in Technology Awards: The winners are in!
Today I had the pleasure of attending the 2013 FDM everywoman in Technology Awards, an event you can't help but leave with a feeling of admiration for all women who work within the IT sector.
Taking place at The Savoy Hotel in London, and compered by TV presenter Angela Lamont, the awards are designed to recognised women that are driving innovation, pioneering new practices and fuelling the economy.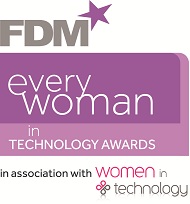 Research by everywoman and Alexander Mann Solutions, called Focus on the Pipeline, recently found that STEM has the highest number (80%) of female middle managers who want to progress in their careers – highlighting the level of ambition that exists within the female IT workforce.
Now in its third year the infectious atmosphere of enthusiasm and passion, within in the Savoy ballrooms, never fails to inspire.
The winners in the 2013 FDM everywoman in Technology Awards are:
Woman of the Year – sponsored by FDM Group
Eleni Antoniadou

, Co-founder and Chief of Science, Transplants without Donors from London
Entrepreneur of the Year – sponsored by Alcatel-Lucent
Jennifer Sheridan

, Founder & CEO,

Togeva Ltd from London
Innovator of the Year – sponsored by The Institution of Engineering and Technology
Joanna Montgomery,

Founder & CEO, Little Riot from Newcastle
Inspiration of the Year – sponsored by VMware
Deborah Gundle

, Founder/Director,

Netbuddy from London
Leader of the Year – in a corporate organisation (with over 500 employees) – sponsored by BP
Lucy Dimes

, Chief Executive Officer, UK & Ireland, Alcatel-Lucent from London
Rising Star of the Year – sponsored by Cisco
Taylor

McGhee, Integrated Supply Chain Specialist Apprentice, IBM UK Ltd from Port Glasgow
Team Leader of the Year – in a SME (with under 500 employees) – sponsored by salesforce.com
Tamara Lohan

, Co-founder & CTO, Mr & Mrs Smith from London
Maxine Benson, co-founder of everywoman said: "This year the judging panel were overwhelmed by the extraordinary talents, energy and drive of all the finalists and selecting these winners was no easy feat. Each one of these inspirational women excels in many different ways, yet they share many qualities – a clear vision, incredible passion for IT and a firm belief that there are no barriers to what can be achieved.
"The technology sector has demonstrated its commitment in the past few decades to embracing and nurturing its female talent, and we hope by celebrating these winners today, we can encourage others to follow in their footsteps."
Sheila Flavell, chief operating officer and founder director of FDM Group pointed out that the FDM everywoman in Technology Awards are a "fantastic platform to showcase and celebrate the efforts and successes of so many high-calibre women in such a male-dominated industry.
We are delighted to be sponsoring the 2013 Awards and support everywoman in their determination to raise the profile of women in technology. Like everywoman, FDM is fully committed to helping more women further their careers and break through the 'glass ceiling'."
Maggie Berry, managing director of Women in Technology said: "We want to actively champion the women who are already doing great work in this sector and who, through these awards, will become inspirational role models for a future generation of female technologists."
For the first time the awards included a Lifetime Achievement Award, which was sponsored by Alexander Mann Solutions. The award was won by Dame Stephanie Shirley for her significant contribution to the industry. The award was presented to her for her lifelong passion for inspiring and enabling women to achieve success in technology.

This morning I was also invited to attend a roundtable hosted by everywoman. This included senior leaders and influencers from global technology companies, who used the opportunity to discuss challenges facing the industry.
Interesting points were raised on how to attract more women to industry and how to retain those that are already there. In-depth coverage of this roundtable to follow on Computer Weekly very shortly.
Congratulations to all of the winners from today's event and thank you to FDM and everywoman for a great awards ceremony. More content on the winners to follow!